Bay of Plenty 24
Counties 21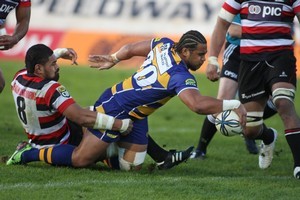 If Counties Manukau find themselves sitting just outside the top seven when the final whistle is blown this season, they might well point to this game as the tipping point.
The final act of the first half and final act of the match were close to carbon copies, with Counties conceding penalties deep in their 22, Bay of Plenty tapping quickly and scoring as the visitors failed to scramble effectively.
In fact, all three Bay of Plenty tries came from quick taps near the Counties line.
"We were probably a little naive in some of the things we did," Counties' coach Milton Haig said. "We couldn't hold on the final minute of either half, which was disappointing.
"And the try we conceded 10 minutes into the second half came from us just putting the ball on the ground. We could have made it harder for them.
"Those sort of things hurt you."
Haig watched his side play with minimal possession as their set-piece faltered into the wind. While they took some poor options at lineout time, Haig felt they were hard done by in the scrums.
"There was a lot of chatter we could hear from the assistants and it was all one way, they were only looking at one side.
"It's disappointing, but again we should have adjusted quicker than we did."
While it is Mike Delany's 80th-minute dart that will be remembered, if anything it was the try that was conceded well after the halftime hooter that hurt most.
Playing with a howling wind at their backs, Counties had controlled all but the first five minutes and led 14-0 until conceding a try to Lelia Masaga after he cut back against the grain and exposed some lazy inside defence.
That allowed the hosts the second-half luxury of playing the wind, playing territory and waiting for Counties to make a mistake. That they did from their own scrum feed and, after another quick tap, Taniela Moa charged over.
After impressive centre Siale Piatau snatched back the lead with a little more than five minutes remaining, it seemed Counties were about to cement a spot inside the top seven but Delany broke their hearts with a try on the hooter.
Fittingly, it was left to Tanerau Latimer in his 50th game to kick the conversion.
"The first half was a writeoff for us - we didn't start playing until after the halftime whistle had gone - and we went flat in the second half too, until right near the end," Latimer said.
"We definitely got out of jail on that one but I guess it says something about the spirit in this team that we were able to come through and get the points." Bay of Plenty leapfrog Counties, who fall to ninth after Northland accounted for a disappointing Otago in yesterday's earlier game.
The battle for the all-important top seven - next year's NPC splits into two seven-team divisions - is becoming cluttered, with sixth-place Waikato just three points clear of Counties in ninth.
With Counties playing four of their remaining five games at Pukekohe, Haig must still fancy his chances of sneaking into consideration.
He said the focus of this season was to win their home games and try to pick up points where they could on the road.
Northland visit Bayer Growers Stadium on Sunday.