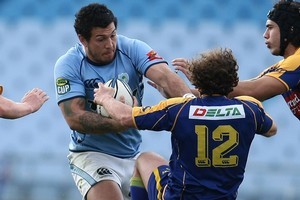 Not many would have believed a humble provincial side could beat a Super 14 franchise base.
But then not many would have believed it would snow at Carisbrook in mid-September.
Whatever your preconceptions, both events occurred yesterday in Dunedin as the restyled men from the north held their nerve and then created a famous late victory to deliver a House of Pain experience to their hosts.
It was an unusual match, plenty of high-octane energy but scant work for the scoreboard attendants until the final quarter. Until then the sides were locked at 3-all, a penalty apiece as their defences scrambled and repelled a variety of attacks.
Then, in the context of this ITM Cup match, the scoring floodgates opened as both sides scored a try to create a thrilling finish.
Otago looked to have gained the crucial advantage for a third straight victory when lock Hayden Triggsfinished off a multi-phase move just inside the corner flag. Otago had gained much of the momentum and looked on track to secure the win.
However Northland wing Mateo Malupo robbed a ball in a tackle and spun away down the touchline to launch an attack which threatened until the desperate cover defence shut down his space. He propped, support arrived and the ball was shifted wide from the breakdown.
It needed several accurate clever pieces of distribution and they came from veteran David Holwell and All Black midfielder Rene Ranger. Their passes hit the mark, Lachie Munro scooted towards the line and then flipped an inside ball to his trailing skipper, Jared Payne.
It was a classic piece of teamwork which created the try as Payne skipped with delight in a celebratory dance in-goal. Northland had the lead, Munro banged over the conversion and they had eight minutes in which to hang on to their advantage.
They kept threatening the Otago line and had another try to replacement halfback Luke Hamilton denied because of an absence of evidence for the television match official.
The visitors' comeback would have seemed incredible to the Otago supporters and men such as looseforward Adam Thomson and fullback Ben Smith who worked so hard to get their side on the board. It was almost as mind-boggling to see snowflakes starting to fall minutes from time.
But this is a Northland side with growing conviction, a side prepared to knuckle down and do the hard yakka.
Holwell and Ranger were gold, Bronson Murray and Tim Dow led the scrum while the lineout jumpers made a mess of their opposites. In his 50th game halfback Ryan Caine barked and worked hard, then Hamilton added the spicy late thrust.
Victory broke a 31-year drought at Carisbrook for Northland, kept them challenging in mid-table and sent warnings to their next foes, Counties Manukau, whom they meet on Sunday.