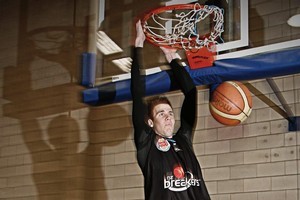 Tom Abercrombie was just starting to make his name on the high school scene when the Tall Blacks stunned the basketball world with their fourth-placed finish at the 2002 world championships.
The then 15-year-old watched in astonishment as an unfancied New Zealand team finished ahead of the likes of the US, Spain and Brazil.
"It was pretty inspiring," Abercrombie says. "It gave me a lot of motivation in my own career in the hope I might play at a world champs."
The 23-year-old fulfilled that ambition early this morning when the Tall Blacks tipped off their world championships campaign against the highly-rated Lithuanians in Turkey.
Predictably, pre-tournament discussions centred on whether Nenad Vucinic's side could replicate the 2002 Tall Blacks in the US. Both sides had a mixed build-up and there were also some veterans from that 2002 team, including Kirk Penney, Phill Jones and Pero Cameron.
The 2006 Tall Blacks illustrated how impressive that feat was when they opened their campaign with three defeats, before sneaking into the knockout round, where they ran into Olympic champions Argentina.
The 2010 team will have their work cut out for them. They have drawn Lithuania, Lebanon, France, Canada and defending world champions Spain. At 13 in the world rankings, they are the third-ranked nation in group D.
They will face stiff competition for a knockout place with France (15) and Canada (19). Two wins are expected to see teams progress to the knockout round of 16 teams.
Abercrombie said they were targeting the games against Lebanon and Canada but they might need a third victory to guarantee a spot in the next round.
A feature of the Tall Blacks' extensive world championships build-up, which has seen them play three tournaments, was their inconsistency.
On their day, they could compete with some of the best sides - beating Russia and Slovenia and losing narrowly to Croatia and Serbia. But they were soundly beaten by Turkey and also slipped up against Jordan.
"We have made huge improvements in the time we have been together, especially at the defensive end," Abercrombie says. "We have played some really tough teams and that's what we really wanted to do. But we are ready and in the best possible shape."
Abercrombie is arguably the most talented basketballer of the new breed but New Zealand's fortunes will revolve around the shooting accuracy of Penney. If the shooting guard is on form, he could almost win games single handed.
Opposition sides know that and will pressure Penney - providing space and opportunities for others such as Abercrombie.
"I just have to be ready when I get those chances," he says.
Group D
Sunday: New Zealand vs Lithuania 1am (live SkySport2)
Monday: New Zealand vs Spain 6am (live SkySport 2)
Wednesday: New Zealand vs Lebanon 1am (live SkySport 1)
Thursday: New Zealand vs Canada 1am (live SkySport 1)
Friday: New Zealand vs France 6am (live SkySport1)