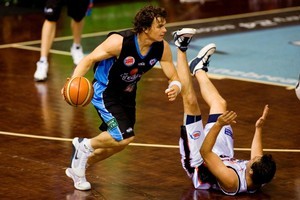 Kirk Penney doesn't sound like a man with a target on his black singlet.
The sure-handed New Zealand shooting guard is at ease despite looming as his team's main scoring weapon at the world basketball championships starting in Turkey.
A hot form run during a buildup tour in Europe has only served to reinforce the opposition aims:to negate the 1.95m Penney and suffocate the Tall Blacks' scoring options.
Coach Nenad Vucinic admits Penney is his main man, with captain Pero Cameron still below full fitness and seemingly consigned to short cameos for the team's five group matches, while fellow 36-year-old Phill Jones can't expect to carry a full load after coming out of international retirement for the championship.
With young forwards such as Craig Bradshaw and Alex Pledger bracing themselves to be dwarfed by the tall timber in opposition lineups, the Tall Blacks will look to 29-year-old Penney to provide spark, points and any openings for his teammates to plough through.
Not that it troubles Penney as he enters his third world championship, starting with New Zealand's first match against world No 6 Lithuania in Izmir tomorrow morning (NZT).
"I guess there is pressure to perform well and make sure you're on your game. I'm certainly trying to do that," said Penney, who accounted for 42 points in New Zealand's extra-time win over Slovenia during their buildup tour this month.
"But I believe in my game and I believe in my team, and I always believe we have a chance."
That 104-103 success over Slovenia was one of just three wins New Zealand managed in nine outings in the space of 16 days, with Penney also providing the buzzer-breaking basket for a 69-68 victory over Iran and nailing 34 points in a lost cause against Serbia.
"Kirk is obviously our best scorer. We play the system to get him shots and then play off him. We don't have another scorer like him," Vucinic said of Penney's importance.
New Zealand enter the championship ranked No 13 in the world, identical to their placing at the last global showpiece four years ago, which followed on from their stunning fourth placing in 2002 in the United States.
They need to win a minimum of two group matches to advance to the second round, with Lebanon, ranked at No 24, potentially their softest target to gain one of them.
The Tall Blacks have a tough opener against Lithuania, a big, physical team containing the likes of Toronto Raptors NBA forward Linas Kleiza and 30-year-old 2.11m centre Robertas Javtokas, who plays for Valencia in the Spanish league.
"They're tough, they're big as well, very skilled, very clinical," Vucinic said.
In other words, they'll show where the Tall Blacks' championship chips may fall next week.
New Zealand group D schedule
* Tomorrow: v Lithuania (1am)
* Monday: v Spain (6am)
* Wednesday: v Lebanon (1am)
* Thursday: v Canada (1am)
* Friday: v France (6am)
* Second round: September 5-8
* Quarter-finals: September 9-10
* Placing 5th to 8th classification games: September 11-13
* Semifinals: September 12
* Final: September 13by Martin Davidson
- NZPA