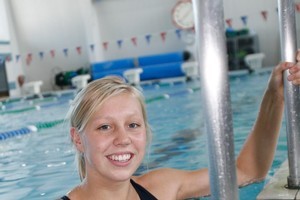 Natasha Hind has set a New Zealand record on the opening day of the Pan Pacific swimming championships in California.
Hind, 19, went under the two-minute mark for the 200m freestyle to qualify for the A final, clocking 1m 59.57s.
The Wellington swimmer went quicker in the final with her 1:58.80, establishing a national open record.
She was eighth in the final but third among Commonwealth countries, which was a superb boost for the Commonwealth Games, said Swimming NZ head coach Mark Regan.
"She has been working very hard and this is a good breakthrough for her," he said.
"We now have two others around the two-minute mark and if we continue to work very hard then we could develop a medal opportunity in the 4x200m relay in Delhi."
Wellington teenager Gareth Kean also set a personal best time of 54.57s in finishing seventh in the A final of the 100m backstroke in just his second time in a major international open meet.
"Gareth also now becomes a factor in his own right for the Commonwealth Games," Regan said.
North Shore's Hayley Palmer set a personal best time of 27.38s to finish third in the B final of the 50m butterfly, an off-stroke for the outstanding freestyler.
Earlier Moss Burmester failed to make the final of the 200m butterfly by some distance on the opening session of heats.
The five-day championships features swimmers from USA, Australia, Canada, Japan and New Zealand in competition rated the toughest outside the Olympic Games and world championships.
NZPA