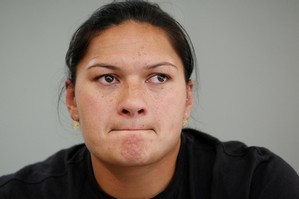 New Zealand shot putter Valerie Vili has been beaten for a sixth time this year by arch-rival Nadezdha Ostapchuk but the New Zealander had to pull out the big one in her final throw to hold off China's Lijao Gong at the London round of the Diamond League athletics series overnight.
Ostapchuk, who won her fifth league title of the year, put down an early marker on an evening in which torrential rain had given way to mere dampness, taking a first round lead with 19.74m and extending it with her next throw of 19.95m.
Vili's opening throw of 19.19m maintained her in second place until the fourth and last round, when Gong overtook her with a throw of 19.26m.
Vili, the world and Olympic champion responded with a final effort of 19.83m, just 12cm short of the lead, but Belarus' Ostapchuk confirmed her superiority with a final effort of 20.27m.
Vili was a little unhappy that the women's shot put event had been brought forward to accommodate the men's event for which one of the throwers was late arriving.
That had forced a rushed warm-up and the slippery conditions had not helped.
She told Radio Live she was looking forward to competing in another three events in Europe before returning home.
The next meet is in Zurich next weekend.
- NZPA