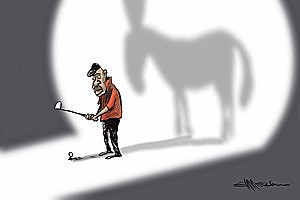 There was a never-to-be forgotten US Open tournament, five years ago, when we found that Kiwi Michael Campbell was capable of playing golf to match Tiger Woods.
Never in our wildest hallucinations did it occur that there would come a day when Woods would play like Campbell, golf's high scoring specialist.
Tiger, a man who treated golf like a combat mission, has gone from Rambo to Cambo.
Until the weekend, I believed that Woods would regain enough of his former skills and dedication to successfully resume chasing his Holy Grail - the Jack Nicklaus mark of winning 18 major titles.
Now, I'm inclined to believe that the Nicklaus record is safe - forever.
Tiger Woods, with 14 majors under the belt, will be the last player to threaten this magical mark.
There are too many good golfers all over the world now for one player to dominate as Nicklaus and Woods have.
Those two are phenomena, and Woods is competing in the tougher age, although Nicklaus faced a couple of notable opponents less intimidated than those who bowed before Woods.
At Akron, Ohio, last weekend, Woods shot 18-over in a tournament where he has been supreme in the past.
What were the odds on Woods ever shooting 18-over? About the same as finding out that Bob Dylan wrote Achy Breaky Heart.
Woods and the term "18-over" were a twain destined never to meet. Phil Goff and Chris Carter had more chance of getting together.
Woods' game is in a mess going into this week's USPGA tournament in Wisconsin. His poor mental state was most in evidence as he bombed on the greens, a place where uncluttered thinking is essential. The situation has sunk in so the putts don't.
Woods has lived his life in a protective bubble, of invitations only. Now the world has trampled through. His private life has gone from gated community to public discourse.
Up until his life sprang a leak when he drove into a fire hydrant, his concentration in practice and tournaments reduced his world to a place of unbelievable focus when he needed it.
To put it lightly, troubles at home - namely his mass infidelities and the epic scandal which ensued - have wrecked his attention to detail and he can't find a way back.
He lived in an unreal world, of adoring fans near and far, to the point that he couldn't even see that his private behaviour might threaten the goal he had set his life towards. Or maybe he couldn't resist the thrill.
What an ugly business this was.
One lesson to learn from the scandal is that hell hath no holier-than-thou fury than a society where just about everybody has access to remarkable communication tools.
For a few weeks, or was it months, the private life of a golfer dominated the thinking of a planet that can't deal with its real problems. Articles on Woods use words like shame and disgraced, and maybe always will.
As for sport, we find that even the fiercest of competitors can be sunk by their private troubles.
I've never liked the arrogant, self-obsessed Woods' demeanour on and around the course, but always admired the way he made his target clear, with no apparent fear of setting himself up for a playing and publicity fall. No platitudes here - he was chasing down that Nicklaus record and that's all there was to it. That takes guts. Having done the talk, he walked the walk on fairways and gave us remarkable sport to watch in the process.
For any golfer, including Woods, winning just one major is a major - he hasn't nailed one for two years. That is why his charge towards history was captivating, and what made Nicklaus' achievement so legendary.
Colin Montgomerie, the best European golfer since who knows when, has never won a major.
To win a major, you need a lot of ducks in a row and Woods' birdies look like they've just spotted a bloke carrying a shotgun.
Phil Mickelson - the enormously gifted world number two - has taken 18 years as a professional to win four majors. Even then, he has been unable to emerge in triumph from out of the US Open rough or the wilds of the British Open.
Nobody would write off the 34-year-old Woods yet, or suggest he won't be in contention again. He has time to re-group. When it comes to the Nicklaus record though, I doubt he will overtake it.
*A rugby suggestion. New Zealand and Australia should put the Bledisloe Cup on the line every time the holder is playing at home, to save it from being a dead duck. The series concept is a fading force, primarily because Australia might never win three matches in a season. The Ranfurly Shield-type challenge deal would be a fillip for the transtasman rivalry.
*Wonderful to see rugby embracing Sonny Bill Williams with such gusto. Even those snotty union-heads who regard league as a sort of periodic detention scheme are suddenly glowing in their assessment of the wonderful young man, who no doubt has immediately taken on all of a superior moral code's most wonderful traits. I still remember SBW - the most feted of young league players - as the ratbag who snuck out on the Canterbury Bulldogs in the middle of a season in which they needed him most.
*A reader from Belmont writes about the ITM Cup ...
"... what a great competition! Full of brilliant players you've never heard of (with a sprinkling of interesting veterans and imports), smashing into each other like billy-oh and revelling in the new law interpretations just as much as the All Blacks.
It would appear that anyone could beat anyone and that a few Super 14 and AB stars will be shown up by the rising talent.
Can't wait to see SBW have a crack but what price a Tim Nanai-Williams or similar snaking past him at some point?"
Bang on ... and never let it be said that this column does not listen to the public.