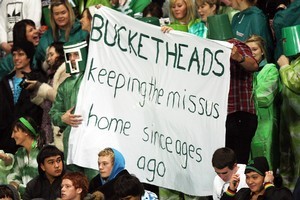 Trusts Stadium Waitakere, FMG Stadium in Palmerston North and even cricket's Basin Reserve are being touted as hosts for next season's provincial rugby showpiece.
The small-capacity grounds have come into reckoning because World Cup rules mean grounds must be handed over to organisers 10 days before they are to be used.
The ITM Cup final is scheduled on September 3, and the World Cup kicks off on September 9. This will cause problems for provincial union bosses who not only will be faced with a logistical challenge, but a potential loss of revenue that has one chief executive talking about compensation.
Season ticket, corporate and hospitality packages are projected to be harder to sell with no hope of a final.
"We've got a bit of a problem, yes," said Wellington Rugby Union chief executive Greg Peters. "It makes it more difficult in terms of satisfying the needs of our sponsors and also hospitality packages you would normally offer around the final."
Peters said no formal approaches had yet been made to any alternative venues, but suggested either the Basin Reserve or Palmerston North, which hosts its first World Cup game on September 28, would appeal as likely candidates.
"Other than that we would maybe look to do a deal with the union we were playing to play it there if possible," Peters said.
Andy Dalton, chief executive of Auckland Rugby and the Blues, said they were investigating the possibility of hosting the final at Trusts Stadium, even though the All Blacks were set to train there on the day of the final.
"The grounds we've got in the Auckland region that are tied up with the World Cup are Eden Park, Western Springs, Trusts Stadium and Bell Park.
"They're all parks we're led to believe we won't have access to but we will still want to explore them.
"There's a possibility Trusts could work, or our fallback position is Mt Smart, subject to availability. We may not know until well into next year."
Southland chief executive Roger Clark, whose team has emerged as a heavyweight, was also aware that Invercargill would be unable to host the final should they qualify first.
"We've worked that bit out, but as yet there are no solutions," Clark said.
Hosting the final in Queenstown was a possibility, but they were still unsure of the Events Centre's status as it was to be used as a training ground during the World Cup.
Hamish Riach, Canterbury Rugby's chief executive, last night said he had not thought that far into the future but did not see it as an issue. He scotched speculation that Timaru's Alpine Energy Stadium was a frontrunner to host a final should Canterbury qualify.
The ITM Cup window is just eight weeks, from July 16 to September 3. It will see three midweek matches for each side and no semifinals.
The World Cup kicks off at Eden Park and Nigel Cass, Rugby NZ 2011 general manager of tournament services, said "10 days prior to the matches the grounds are exclusively ours" and there would be no exceptions for ITM Cup finalists.
Manawatu chief executive John Knowles said his union would be happy to host the final, it did not matter who it was. "We'd even have Auckland down here," he joked.
Knowles said the support for provincial rugby in the province demonstrated that it was a logical venue. That might suit Wellington, but other unions would be reluctant to move out of their borders.
Peters said the fact that they would not be able to play a final at home and the truncated season meant there needed to be an acknowledgment of the "wider implication for the business models of the provincial unions". That could mean seeking compensation from the NZRU for loss of revenue.
"We might have to see how we could work with the NZRU to mitigate those circumstances," Peters said.
Dalton acknowledged there were challenges selling packages to sponsors and corporates because of the compacted nature of the ITM Cup, but the attention the sport would receive in the lead-up to the event should see more businesses want to become involved with rugby "at all levels".
Clark said his union would take a hit in the pocket. "We were always going to have troubles being crushed between the Super 15 and the World Cup," he said. "But that's part of the sacrifice you make to host the cup."
2011 ITM Cup Final
Coming to a sportsground near you?
BASIN RESERVE
Where: Wellington Central
Capacity: 11,600
Best known for: Martin Crowe's 299 in 1991, New Zealand's first test cricket victory over England 1978.
FMG STADIUM
Where: Palmerston North
Capacity: 18,000
Best known for: Spectators stealing the balls during a Kiwis league test in the 1990s; and local fans with green buckets on their heads.
TRUSTS STADIUM
Where: Waitakere, West Auckland
Capacity: 3000 (grandstand) plus standing room
Best known for: All Black training, Diwali Festival of Lights.