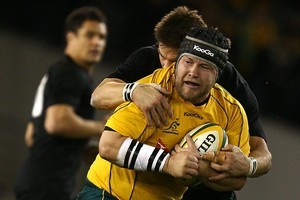 Down the years international rugby props have carried varied and sometimes eccentric reputations.
Brian "Jazz" Muller was a recluse, Olo Brown was the silent executioner, Keith Murdoch still makes headlines, Kees Meeuws is a tattooist's canvas and Carl Hayman decided to spend his best years away from the All Blacks.
The Wallabies have had their characters wearing the low numbers. They had the dropkick(er) Matt Dunning, Rodzilla and Dan Crowley whose pen portrait never graced Reds' programmes until he quit as an undercover cop.
Now they have another, loosehead prop Benn Robinson.
He can scrum too, the nuggety 115kg frontrower who answers to the name of "Cat" because of his apparent likeness to former Australian test cricketer Greg Ritchie.
That comparison is not so flattering but Robinson's form has captured the praise of global rugby spectators.
All Black guru Mike Cron is an admirer and the Six Nations have been forced to concede at least scrum parity when Robinson, rather than some of his predecessors, is on duty.
Since 2008, Robinson has been a regular pick in the gold No1 jersey and the Wallabies have made progress. He cracked his arm this year and is just getting back into his stride in the Tri-Nations.
In his time off, Robinson has been able to spend time on one of his favoured hobbies, breeding pigs.
He heads to his cousin's farm near Manilla to tend his favoured bacon breed.
"The breed - the large black - isn't very well known," Robinson said. "They're a slow-growing breed. There's probably only a couple of hundred registered sows in Australia.
"They're on the endangered species list. But the meat tastes bloody beautiful."
Perhaps that's why they are endangered, some of his mates point out.
As a prop his selection is never in doubt and he believes he is close to full fitness after the Melbourne test last week.
The chunky loosehead had worked hard on his fitness during his enforced rest but running and gym sessions did not replicate the demands of test rugby.
He thought the Wallabies had mixed results at scrum time in Melbourne, some good hits then losses of concentration.
"As a forward pack we have to take the cop for that turnover," he said.
"We have to be on top of our game and make sure we are consistent in what we do in every scrum and go out there pretty strong-willed."
In Christchurch tomorrow, Robinson will go up against the local beast Owen Franks, the 22-year-old who is making quick inroads into what should be a lengthy international career.
Cron has been tuning Franks up again this week, working on his body and feet positioning and other minor details which can make the difference.
"He's going really well, we are pleased with him and Ben [older reserve brother] is really coming on too with his scrummaging," Cron said.
Robinson underlined Cron's assessment of the younger sibling, labelling him a "mongrel" in the scrums.
"He is a really tough opponent, he's got a few tests under his belt so he is getting more and more experience.
"When you play against the All Blacks you never play against a soft tighthead."