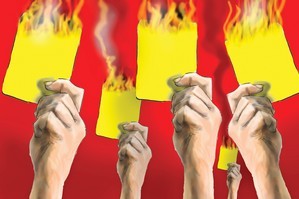 Thank you, YouTube. Finally, we get to see what Wallaby winger Drew Mitchell was yellow-carded for in the Melbourne test. It turns out to be the phantom tackle.
The initial Fox Sports-provided pictures broadcast by Sky in New Zealand didn't show the incident but a clip on the internet answers the riddle.
The verdict: rugby is stark raving bonkers to send blokes off in test matches for such innocuous incidents.
The Wallaby pack may be soft, but the game is getting even softer.
Mitchell perhaps got what he deserved - under the dubious current rules - when he prevented Conrad Smith from taking a quick lineout throw later on and was red-carded for a second yellow card offence.
The Wallabies knew both teams were on a final warning for obstruction, and rugby is wise to stamp out sneaky delaying tactics.
Looking at the forest rather than the trees, though, Mitchell's sending off was a nonsense. If rugby is going to wave yellow cards at the drop of a hat, they need to amend the rule to something like four yellows equal a red.
At a pinch, Mitchell might - and only might - have been penalised for the first "offence" after touch judge Cobus Wessels' intervention.
He reported to Craig Joubert that Mitchell made a "late and no arms" tackle and recommended yellow.
He obviously did not see the incident clearly, yet made the dramatic ruling.
The "tackle" was certainly off the ball. But just as certainly, it did involve Mitchell using his arms. Mitchell was not even charging at Richie McCaw, pushing at McCaw's chest while himself moving and looking away from the All Black captain. There was no contact with Mitchell's shoulder or chest.
McCaw, perhaps off balance, hit the deck like the proverbial sack of spuds. Wow. Mitchell must have exceptionally strong arms, even though Wessels didn't actually witness him using them.
You will have seen plenty of similar incidents and much worse in the past, without a peep on the whistle or the suggestion there should have been one.
If rugby stays on this track, not only are the days of 15 v 15 over 80 minutes over, but there will be heavily reduced contests if referees like Joubert really have the so-called courage some are lauding him for. My guess is the referees will start backing off if a couple of players are already off, fearing they will have orchestrated a farce. Which is what it is.
Just imagine if a World Cup final was skewed, or wrecked, by the rulings which saw Mitchell dismissed.
Rugby needs a decent old pow-wow to sort this yellow card madness out after a rash of dodgy decisions in just four Tri-Nations matches.
Tests are supposed to be tough places where 15 blokes take on 15 other blokes. Yet referees are now dismissing players on suspicion and for non-events. The yellow card on Owen Franks, for a smashing tackle, was just as ridiculous.
And just as we are getting "professional" fouls, a la Mitchell on Smith, so there are other "professional" tactics.
Players are using their arms all right. Big tough rugby jokers are throwing up their hands in horror, or mock despair, to appeal for favourable rulings. The next stage will involve diving, if it hasn't already.
Soccer has been so blighted that rules were needed to punish players who use "simulation". Rugby is in danger of going down the same avenue.
*Holy moley. The All Blacks have named virtually the same starting team again. Hate to tempt fate, but hopefully rest and rotation is resting in peace. A return to old-fashioned selection ways is working. A stable lineup encourages combinations and confidence.
*Wallaby supporters are right to wonder if their powder puff pack would cope a lot better if the injured Ben Alexander, Tatafu Polota-Nau, James Horwill and Wycliff Palu were available. They would, without doubt. But that's life at the top - dealing with injuries is a major part ofthe game. And just imagine theAll Blacks with Ali Williams and Andrew Hore on board, fit and firing.
To an Aussie lament over the absence of power winger Digby Ioane there is a two-word reply: Sitiveni Sivivatu.
*What a pleasure to see the wonderful business of swing bowling taking centre stage in world cricket. This has been an overlooked art in the modern era. Why? There are probably too many days when swing is let down by unfavourable conditions, and maybe even a bowler's loss of touch. In the age of T20 and one-day cricket, swing is riskier than the dubious charms of the line and length merchants.
Englishman James Anderson's crushing performance against Pakistan at Trent Bridge, the old home of Richard Hadlee, showed there is life in swing bowling yet. Anderson, who moves the ball both ways, tore Pakistan to pieces.
New Zealand cricket could do with more of these artful bat dodgers. There was never a better sight than when, many moons ago, the whirly-armed Lance Cairns was having a good day, ripping the ball in late against right-handers, almost at right angles.
We've had a couple of other decent swingers but never enough considering our climate. The Aussies, who play in hard and fast conditions, don't enjoy facing swing bowlers either.
*Michael Schumacher is up to his old tricks. On the comeback trail, he is older but not wiser. Once again, the idiotic German superstar has endangered lives in F1. He pulled out one of his old stock car tricks at 300km/h in Hungary, sending an overtaking Rubens Barrichello towards a wall.
Blinded by his great driving, the sport often allowed Schumacher to get away with dreadful tactics. I haven't seen the latest incident but even he agreed with the penalty, which is saying something. This incident wasn't the first, and F1 should at least consider threatening to make it the last. That might bring Schumacher into line at last.
*Alex Higgins helped change snooker - he was the wild introductory offer to the sport's golden age, some time ago, when famous personalities such as Steve Davis bossed the baize and lived in the headlines. Last week the cancer-hit Higgins - a one-man tabloid headline hogger - died alone.
"Hurricane" Higgins played with unbelievable pace and flair. He was also an alcoholic, like an even greater Irish sportsman, the soccer genius George Best. Fame and fortunes won and lost may even have helped fuel their addiction, known as the "family" disease. Best's mother started drinking very late in life, and quickly to excess. Within a few short years she was dead.