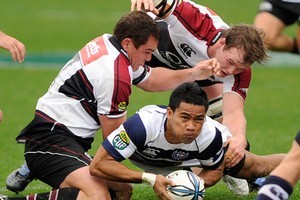 It no doubt pains Harbourites that their union's relevancy has been questioned on the occasion of their 25th jubilee, but by the time the final whistle went it was playing more like a funeral march than a birthday party.
Craig Dowd's young pack committed themselves to the cause yesterday, but in the end class won.
"We've tried to keep the pressure [of the jubilee] away from the players. Obviously it's a big day for North Harbour but at the end of the day it's one game in a campaign," said coach Craig Dowd.
Unless they get some players back out of the sick bay, it could threaten to be a long campaign as Harbour have decided not to overspend on players at the expense of community rugby.
Playing with the wind, with the emotion and the majority of the 7100 crowd behind them, Harbour posted a quick 14-0 lead, yet Auckland's comeback was as predictable as a 5pm traffic jam around these parts.
Auckland were simply too strong, particularly in the pack, and too deep. Where they could call on proven performers such as Matt Berquist and Chris Lowrey from the bench, Dowd looked along the pine at rookies and journeymen.
"Matt Berquist wasn't happy not starting and that's what we want," Auckland coach Mark Anscombe said. "We want guys competing for positions and to know they're only as good as their last performance.
"We've been building [depth], with some of the recruitment we've done. We didn't have that last year."
He might not admit so publicly, but Dowd must lament the fact he doesn't have the same luxury. Injuries have shorn the side of quality in the tight five, and that showed.
"In that period just before halftime we turned over five consecutive set pieces and gave Auckland the ball. Talking to the guys, they felt like they were on defence for the whole of the game," Dowd said.
Still, it started brightly for Harbour.
Anscombe pinpointed Luke McAlister as a player who could threaten Auckland's favouritism given the space and he was right, even if it was short-lived.
The All Black was at the heart of Harbour's early inroads, whether pushing 62m penalties through the sticks, counter-attacking from deep or playing the straight man.
The opening penalty was quite extraordinary. With the aid of a decent breeze behind him, McAlister not only got the distance but could have added another 5m.
"We did talk about the fact that any penalties in our half and Luke would slot them through," Auckland captain Daniel Braid said, "but we didn't expect them in their half."
When flanker Tom Chamberlain crossed after nice work by Alipate Fatafehi and McAlister added two more penalties, Auckland's coach might have had flashbacks to last season's shocker at Eden Park.
This time, though, they quickly asserted their dominance and when they finally hit top gear they were overwhelming.
The Harbour pack started to splinter as Auckland worked their way into the wind and they were rewarded through tries to wing Chay Raui and Braid.
The second half was a relatively simple exercise for Auckland.
Brent Ward scored a well-worked try that owed a lot to Ben Atiga's nice running lines, and reserve wing Dave Thomas finished another slick move well. By that stage the score had blown out to 36-14.
It did not flatter the visitors.
FULL TIME SCORE
Auckland 36
North Harbour 14