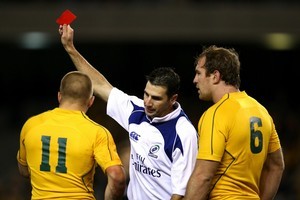 It was refreshing but ruinous for the Wallabies when referee Craig Joubert sent off wing Drew Mitchell, consigning his team to certain defeat.
No side, and certainly not the current Wallaby model, can play a man down and hope to stay with an athletically skilled side like the All Blacks.
It was dopey of Mitchell to test the referee, who had already shown he was unwilling to tolerate indiscipline and infractions.
Perhaps the laws need to be amended to allow multiple sinbinnings for technical infringements rather than violent fouls but as they stand, once Joubert decided Mitchell had infringed again he had to order him from the field.
The wing had followed Owen Franks to the bin, after an illegal tackle and then six minutes after his return, was dispatched for timewasting.
Soon after the Wallabies lost a tighthead, Mils Muliaina strolled over for his second try and the All Blacks had a 25-point lead.
It could have been a total flogging. But the Wallabies dug in while the All Blacks perhaps eased off the throttle.
Seven tries to three, though, was a belting, a comprehensive 49-28 bonus point victory for the All Blacks and a further dagger thrust into the Wallabies' psyche as they scrabble around looking for some way to break the All Blacks' eight-test winning streak against them.
Mitchell survived a judicial hearing yesterday without any further punishment in a Tri-Nations series where Owen Franks, Quade Cooper, Bakkies Botha, Danie Rossouw and Jaque Fourie have also received yellow cards.
All Black coach Graham Henry approved of referees' lack of tolerance for offenders and Joubert's weekend performance.
"It's good that he's strict and he sticks to what he says he's got to do. You'd prefer a referee who's tough even if he goes over the top occasionally. That's better than someone who sits on the fence and doesn't rule."
Hooker Keven Mealamu said the messages were clear about a crackdown.
"We have to work on it," he said. "[Owen] Franks saw Richard Brown and forgot to wrap him up, it was a timing issue."
It was a strange test. The All Blacks had a four-tries-to-one margin after a first half which was punctuated by stoppages. When Mitchell was sent off soon after, the result was inevitable.
The All Blacks lost a little of their sting, the Wallabies worked hard to repair some of their early mistakes and the gap closed. But the victory margin was substantial, the plaudits all for the All Blacks and the worries collapsing on top of the Wallabies.
"I think we probably played better at Eden Park," Henry said, referring to the All Blacks' 32-12 win against the Boks to open their Tri-Nations campaign. We were more clinical but it was a different game. There were very few set-pieces so it became a game at the tackle and keeping people on their feet so they can attack or defend."
Five-eighths Daniel Carter claimed 19 points on a night when his kickoffs were top drawer, his goalkicking sharp and he claimed a charge down try after conceding one in a similar fashion.
Assistant coach Wayne Smith said he and his fellow coaches never saw any win over the Wallabies as a personal victory against Robbie Deans. That had nothing to do with it.
"We got a bit ragged tonight," he suggested, "and we've got to start looking at how we're going to fixup a few areas to try and win another one.
"We don't want to be patting ourselves on the back [just yet]."