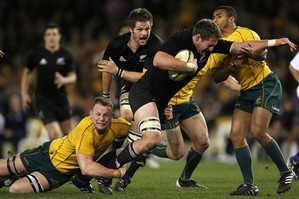 If Charles Dickens were still around, he'd be tempted to write a tale about the contrasting fortunes of these two great rugby rivals.
New Zealand have struck it rich. They are loaded with talent, have a game plan that ticks every box and as they rampaged all over the soft turf of the Etihad, showed they have forwards who can play at speed, passing and offloading as if they are behemoth backs.
The All Blacks have reached the point now where probably not many can remember what it is like to lose to the Wallabies.
Last night was their 12th consecutive victory and their eighth consecutive win against the Wallabies. Was it ever in doubt? Did the Wallabies ever look as if they had the smarts, the brawn, the intuition or the belief they could win?
They had the passion and application but that was all applied as if they were a side consigned to their inevitable destiny - almost comfortable as long as they dug in, kept the effort at the top of the green.
This rivalry is at the point where the Wallabies see getting close as all they can aspire to.
It's at the point where the All Blacks can empty their bench, as they did, with 15 minutes remaining. It's at the point where the All Blacks can score 49 points and seven tries and not consider it their best work.
"I wouldn't have thought so," said coach Graham Henry when asked if it was the best performance of his reign. "I thought we were better in the South Africa test in Auckland.
"But we did produce some scintillating rugby and we are very pleased with the way we played. To score seven tries in Australia against Australia is very special. It was a game at the tackle and at the breakdown and we obviously managed that quite well as we scored seven tries but we can still improve."
Henry was unsure whether Jimmy Cowan, whose ribs are damaged, will be fit next week. The All Blacks came out of the match with not only five points but a clean bill of health as well.
Australia are in an altogether darker pace, and not entirely sure how they can fix things.
Wallabies coach Robbie Deans was clearly livid at Drew Mitchell for picking up a red card but did concede that was not the separating factor.
"We couldn't get any consistent possession in the first half and then we had the red card, that was a big contributing factor to our circumstance. It was costly as the game becomes a bit of nonsense [if reduced to 14 men] at this level.
"But we have to get back to work. We have an opportunity next week in Christchurch and you have to keep going and try to find solutions.
"Little things are important. You have to master the detail if you want to prevail."
Henry had some sympathy for his old sparring partner. Asked how he would feel if the boot was on the other foot and the All Blacks had lost eight in a row to the Wallabies.
"I'd be very sad," said Henry. "I'd be feeling the heat."