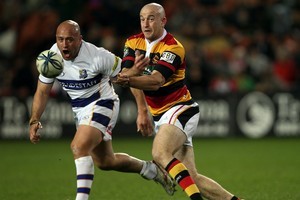 As the Swanndri and gumboot wearers trudged from Waikato Stadium last night, they might have reflected on a dull spectacle, despite beating Bay of Plenty for the first time since 2003.
The match failed to come alive until the final 10 minutes when the Steamers edged to within three points of the hosts with a late try. Replacement Phil Burleigh then missed a long-range penalty from the left-hand touchline in the 78th minute.
Yes, Waikato won, but they did so in a match which possessed more ebb than flow. Errors were strewn across the first half, kicks were pushed too far both in play and for touch, turnovers reigned as possession was sacrificed and the ball often never stuck in the hands.
Returning All Black Liam Messam let a couple of try opportunities go begging with knock-ons in the second half. He might save some of his halftime oranges next time to squeeze on his hands.
Bay of Plenty produced their late surge with a well-mauled try to Tanerau Latimer after opting to take the lineout rather than the penalty in the 70th minute.
It came after Waikato openside flanker Jack Lam was sin-binned for a marginal spear tackle.
The most pleased person at the stadium for the first 20 minutes would have been the head groundsman. His immaculate field was left largely untouched in each 22. At times it seemed like a force- field was protecting the ball and the players from stepping outside the middle 56 metres.
Brendon Leonard had a solid match as he looks to get back into an All Blacks jersey after touring at the end of last year. He combined with first-five Trent Renata to score the first try in the 38th minute.
Renata found some space on his 40m-line and Leonard moved effortlessly to be on his inside and dashed a further 20m to go under the posts.
It was some compensation for Leonard who butchered the first opportunity courtesy of a try-saving tackle from Bay of Plenty No eight and captain Colin Bourke.
Centre Save Tokula had made one of many potent punches through the defence before Leonard had the ball rumbled from his grasp. He also had a try denied in the 55th minute when a dive to score in the left-hand corner had his feet edge into touch.
The former All Black's pass proved crisp, giving the backs ball to hit with pace. Former Auckland halfback Taniela Moa, debuting for Bay of Plenty, was more hesitant and their backline was left faltering.
Unfortunately, Renata had a patchy day with the boot. Too often he put grubbers into the Bay 22, looking to disrupt the Steamers' defence, when his backs (and almost certainly forwards) probably would not have minded if he had kept it in hand for a few assaults on the line. Renata also missed his first three penalty attempts, including one from virtually in front.
Toby Arnold produced a couple of strong runs from fullback for the Bay but they came to little as his passes failed to connect or boot was put to ball prematurely.
A further bonus for Waikato would have been the way their scrum dominated.
Waikato 13 (B. Leonard tries, T. Renata con, pen, D. Sweeney pen)
Bay of Plenty 10 (T. Latimer tries, D. Waenga con, pen). HT: 10-3.