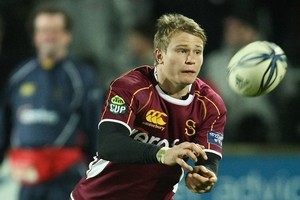 Southland have managed semifinal spots in the last two national provincial championship, and may go close to a hat-trick this year in the ITM Cup, its latest reincarnation.
While seven is the magic number - teams have to get into the top seven to be assured of 'championship' rugby in 2011 - the Stags, the current Ranfurly Shield holders, looked as if they might have smaller numbers in mind.
They have some grunt up front, as usual, but the old style of grinding forwards and stolid backs is long gone. The backline has some nip and tuck - as evidenced by first five-eighths James Wilson's fend to set up the first try to winger Mark Wells - and the likes of fullback Robbie Robinson, centres Kendrick Lynn and Matt Saunders, and wing Glen Horton will worry defences.
Manawatu's defensive organisation and steel weren't always of the first order. The Stags stitched together the second try (for a 14-0) lead within 20 minutes after a breakout only 10 metres from their own line. That try went to No 8 Elliott Dixon who galloped past Manawatu's midfield.
Manawatu fought hard, got back in touch with three successive penalties, but misfired with wayward passes and turnovers when looking dangerous. They had a bit of a sevens look to them, with Tomasi Cama zipping around in the midfield and Lote Raikabula on the wing, not to mention Shannon Paku on the wing, back from Europe.
The forwards produced some good driving play - but too often fell short with the reward in reach.
Southland, meanwhile, lost their way a bit and it took good work from Lynn and Wilson to ignite another attack which ended with giant former All Black prop Jamie Mackintosh plunging over for a 19-9 lead at the break.
Inside the first 10 minutes of the second half, they made the game safe. Hooker Jason Rutledge made hay from a turnover and his pass found lock Joe Tuineau - whose pace as he stormed upfield was further testimony that Southland have some genuine zing this season.
Tuineau was caught just short of the line but halfback Scott Cowan had tracked him well to take the scoring pass. A further try to Wilson made it 31-9 before Manawatu scored their first try, to nippy halfback Aaron Smith, after a front-of-the-lineout move.
They got another late to pull the score up to 34-23 but Southland had the bonus point and the better start to the season.
Manawatu 23 (A. Smith, H. Parkes tries; C. Clare 3 pens; S. Paku 2 cons)
Southland 37 (M. Wells, E. Dixon, J. Mackintosh, B. Cowan, J. Wilson tries; R. Robinson 3 cons; Wilson 2 pens). HT 9-19.