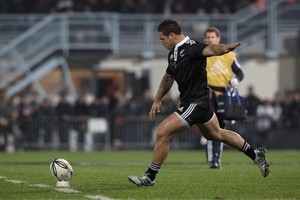 Luke McAlister quite likes being something of a forgotten man of New Zealand rugby because it allows him to, as he says, "fly under the radar".
But he will want to be a blip on some radars, especially those of the All Blacks coaches, if he is to play at next year's World Cup.
McAlister has had a difficult time since returning from the UK just over 12 months ago. There was an expectation he would slot straight back into New Zealand rugby and pick up where he left off in 2007.
It was an opinion shared by Messrs Henry, Hansen and Smith and they now acknowledge they made a mistake rushing him back into the All Blacks for last year's Tri Nations. He struggled with his form, illustrating the difference between the type of game played here and in the Northern Hemisphere.
McAlister will feel more at home when he takes to the field this afternoon for North Harbour in the Battle of the Bridge against Auckland.
"It's a good opportunity for me to get back to where I want to be," he says. "The ITM Cup isn't at the level of test rugby so it gives you the chance to do a bit more as a player in a more relaxed atmosphere.
"Only playing a couple of weeks here and there, it's hard to get consistent form. I haven't really had that in the 12 months since coming home. My goal right now is to to get back playing consistent rugby ... and to be injury free."
He returned home with a niggling knee injury and followed that up with calf, hamstring and back injuries, as well as a fractured nose.
It has meant a disrupted 12 months and only three games for Harbour in last year's national championship and three for the Blues in this year's Super14.
He's hopeful his fortunes have changed because he got through Harbour's pre-season and club rugby unscathed on top of the three games he played for the New Zealand Maori in their recent centenary celebrations.
He showed encouraging signs for the Maori, especially against England, and was called up to the All Blacks as injury cover for Dan Carter for lastmonth's second test against Wales.
But with increasing depth in midfield - with Ma'a Nonu, Conrad Smith, Stephen Donald, Richard Kahui, Isaia Toeava, Sonny Bill Williams and Benson Stanley - McAlister is being squeezed.
He desperately wants to play at next year's World Cup, and is contracted until the end of 2011, but it would not be a surprise to see him return overseas if things don't work out.
He seemed to suggest this when he said, "I guess if your services aren't needed, you go somewhere else".
"What he needs is a damn good ITM Cup," former North Harbour coach Peter Thorburn says.
"He has to really start from this weekend and break back in [to the All Blacks] for the end-of-year-tour.
"He hasn't lost his class, he just doesn't seem to have got back to where he was before he went overseas. The reason he's still of great value is the fact he is an outstanding goalkicker, and there is a dearth of good ones around, and attacking player.
"The danger is that North Harbour are a weakened side and if he has to lead the backline on his own, I'm not sure he's that type of player. He's skilful but he needs to have some wise heads around him to take some of the pressure off."
It's something North Harbour assistant coach Jeff Wilson is aware of. A young Harbour side will take the field today and may not even look capable of finishing in the all-important top seven.
Harbour have finished 12th each of the past two years and have been weakened by the losses of Anthony Tuitavake and Rudi Wulf overseas and a catalogue of injuries.
"Luke needs to get the confidence back in his own game," Wilson says. "We are starting to find that with us. He's been great. He's showing really strong leadership and it's given him the confidence going into games that's he's not the be-all and end-all. There was a lot of pressure on him last year.
"What we are working on is making sure the guys around him do their jobs so he can focus on producing consistent performances and putting pressure on the All Black incumbents.
"Class is permanent, form is temporary. He's too good a player and too talented not to bounce back from these challenges. I'm expecting big things from him."