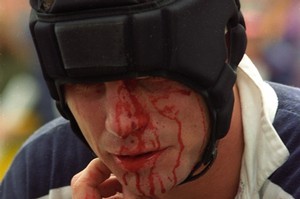 As Blair Larsen took his seat alongside the others, he felt like a naughty schoolkid.
On one side of the hallway sat the Auckland players. On the other, North Harbour's. They were all waiting for their judicial hearings after being cited in one of the most notorious games of rugby seen in this country.
Seven players from both sides fronted the judiciary in the wake of Auckland's 22-16 win in the NPC final.
Normally they would have had to venture to NZRU headquarters in Wellington to have their case heard but there were so many, they were summoned to a hotel near Auckland Airport instead.
The Battle of Onewa Domain, as the 1994 NPC final became known, was the most notorious game in 25 years of Auckland and North Harbour rivalry and featured, in the words of the Rugby Almanack, "many shameful acts by well-known players".
It was a time when Little Brother stood up to Big Brother, gave them everything they had (some legal, some not so) but still came up short.
It was a brilliant Auckland side that took the field that day. Not only was it full of All Blacks but top All Blacks such as Sean Fitzpatrick, Zinzan Brooke, Robin Brooke, Olo Brown, Lee Stensness and Carlos Spencer. Others, including John Kirwan, Michael Jones, Craig Dowd and Joe Stanley, were injured. The team were coached by a school headmaster by the name of Graham Henry.
But North Harbour were also stacked full of talented players such as Frank Bunce, Glen Osborne, Walter Little, Ian Jones, Eric Rush, Ant Strachan, Richard Turner, Liam Barry, Ron Williams and Larsen, and many had history in the Auckland set-up.
They had been the only team to beat the visiting French in 1994 - the All Blacks lost both tests - had defeated Transvaal and also smacked Canterbury 59-27 in the NPC semifinals. Just weeks earlier, they had beaten Auckland for the first time at Eden Park.
"Auckland were always the team to beat in New Zealand rugby in the late '80s, early '90s," Larsen says. "But we had a fantastic year, too. We genuinely thought we could have won that year. We had the team to win it and it would have been the icing on the cake to finish the year off.
"I guess it was a real chance for North Harbour to state that we were a power of New Zealand rugby and we could foot it. We had the confidence to win ... but not quite the maturity and experience. We hadn't been on that stage too many times before.
"Auckland were a bloody good side and, because of that, had a certain arrogance. Part of that arrogance was the ability to niggle away at you. Guys like Fitzy were pros at it. I guess that's what made them a great team as well. They knew they were so good."
They had also been stung by their defeat to Harbour earlier in the season. Former first five-eighths Grant Fox had been very clear in his playing days that you don't lose to your near neighbours but this side had.
Stensness says Auckland "had a bit of revenge on our minds. It was for bragging rights for the city and that was important. It was also a final and the potential to lose in a final would have made it even more embarrassing. You didn't want to lose to your little brother."
Onewa Domain was bursting at the seams for the match. Rules then dictated North Harbour would host the final even though they weren't top qualifiers - Auckland staged the round robin match so it was Harbour's turn - and steadfastly refused approaches to shift the final to a bigger venue such as Eden Park or Mt Smart Stadium.
Some in the union wanted to maximise profits but many of the players wanted to improve their chances of winning.
Brad Meurant, Harbour coach at the time, said in Lindsay Knight's book Harbour - the First 25 Years of the North Harbour Rugby Union: "To have played at Eden Park would have been worth a 10-point start to Auckland. They were probably always going to win the game anyway but we wanted to give ourselves the best possible chance."
Lock Ian Jones, playing in his first season for Harbour after moving from North Auckland, applauded the stance.
"We would have got a bigger crowd if we played the game elsewhere but it wasn't right because it was our home game," Jones says. "It was Little Brother hosting Big Brother and they didn't want to come over here. That added to the build-up."
What also added to it was a provocative Nike billboard displayed around town. Both sides were sponsored by the sports company but it didn't stop them trading barbs in the lead-up to the match.
Many fans would have discussed this at the Poenamo Hotel over the road from the Onewa Domain in the hours immediately before kickoff. By the time the game started, they were well lubricated and looking for action.
Larsen remembers: "Onewa Domain was way too small and by the time the game kicked off, it was such a charged atmosphere in such a small space.
"It was one of the most intense atmospheres I have been in.
"I wouldn't call the game filthy. There was no malicious intent, certainly not by the Harbour players. We never went out there to start a fight. But you just always had the feeling that, as soon as you ran out, something was going to happen and it wasn't all going to be rugby."
Referee Colin Hawke had little warning. He hadn't arrived in Auckland until the day before, so didn't appreciate the level of feeling between the two sides. He sensed nothing out of the ordinary in the changing sheds before kickoff. In fact, he felt it was very relaxed, which was normal before a big match - can't afford to expend too much nervous energy thinking about it.
"It caught me a bit by surprise," Hawke says. "There was some silly one-off stuff that then turned into quite blatant offending from players you wouldn't expect to be involved, some quite well-known players.
"I was a bit dumbfounded, really. It was the oddest game I ever refereed.
"If I had my time again, I probably would have done things differently. I would have stopped the game about 20 minutes in and said, 'listen, you guys go over there and you go over there and only come back when you're ready to play rugby. Let me know when you're ready, otherwise we're not going to have anyone left at the end'. But it was hard to do that because it was an NPC final and also on TV."
What viewers witnessed was both Rush and Robin Brooke sent by Hawke for an early shower and a handful of yellow cards shown to others.
They also saw the Auckland pack dominate North Harbour up front, deserving to win their seventh NPC title in 10 years (they won nine in 12 years between 1985 and 1996).
Brown, Fitzpatrick and Jason Chandler scored tries for Auckland, with fullback Shane Howarth adding a penalty and two conversions.
Little scored a try for Harbour in reply, with Warren Burton landing three penalties and a conversion.
It was the closest Harbour got to winning a national provincial championship in their 25 years and it could be some time before they get that close again.
Regardless, an edge has been lost from the Auckland derby. Professionalism means fewer All Blacks play in the annual encounter than in the past, the crowds don't come in the numbers they once did and Auckland and Harbour players are now team-mates at the Blues (Harbour used to be aligned with the Chiefs).
Auckland and Harbour's relationship has never been easy. For one day in October 1994, they were anything but good neighbours. It truly was, as the moniker suggests, the Battle of the Bridge.
HISTORIC ENCOUNTERS
1986: Auckland 18 North Harbour 6
The first Battle of the Bridge was also North Harbour's first challenge for the Ranfurly Shield. A Harbour team who had easily won promotion from third division in their first season took it to one of the greatest provincial sides of all time in front of 35,000 at Eden Park.
Harbour led 3-0 at halftime but Grant Fox took control in the second spell, kicking for the corners, while Andy Haden was dominant in the lineout. North Harbour might have lost but they were far from beaten and proved to coach Peter Thorburn they could compete against the best.
For Thorburn and many Harbour players, however, it was a bizarre experience. They had grown up watching rugby at the ground - now they were the enemy. Harbour's cheer squad, the first in New Zealand rugby, also elevated the more traditional eyebrow.
"I can still recall sitting at the back of the main stand and there were these old boys of Auckland rugby shaking their heads as the cheerleaders shook their bottoms on the pitch below," Thorburn said in Harbour - the first 25 years of the North Harbour Rugby Union.
2004: Auckland 32 North Harbour 34
It looked bad for Harbour from the outset. Auckland centre Sam Tuitupou scored from the kickoff and the blue-and-whites jumped out to an early 24-3 lead through tries to Isa Nacewa and Sione Lauaki.
But North Harbour fought their way back into the match. Rico Gear's second try late in the game, converted from the sideline by Luke McAlister, saw them win their first game of the season and their first at Eden Park since 1998.
Harbour had their shortcomings in 2004 but possessed a potent and promising backline with Rico and Hosea Gear, Anthony Tuitavake, Rudi Wulf, Nick Evans and McAlister.