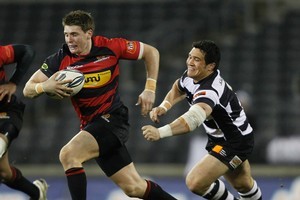 Canterbury opened their defence of the national rugby crown with a messy draw against Hawkes Bay in Christchurch.
In a fitting end to a poor ITM Cup match, replacement Hawkes Bay back Andrew Horrell nailed a fulltime goal from a ruck penalty, the major scoring route over the previous 82 minutes.
Last night's result protected a long undefeated record against the Magpies, who have not beaten the red and blacks since 1982.
This was an arm wrestle of the late night pub variety - lots of misplaced intent and not much finesse.
Canterbury took a 20-17 lead early in the second half when Hawkes Bay captain Jason Shoemark's ponderous clearance was charged down by wing Tu Umaga-Marshall, who cantered in for an easy try.
The first half was saturated in the penalties dished out by Matt Stanish, almost all of them at rucks.
What had the potential for a fiery opening round match, given their rousing recent history, was a let down as both teams struggled their way into the season.
Hawkes Bays' backline defence was naive and disorganised, letting Canterbury pour through an a number of occasions.
The Bay backs were hardly sighted for Canterbury's opening try, finished by Sean Maitland.
If ever a dull stage was set for a few Clint Newland moments, this was it. And the bearded monster duly obliged, the Bay prop shoving referee Stanish to the ground at one point, then taking magnificent charge of a maul to set up a driving try to Hikawera Elliot.
His crowning moment would rank as one of the silliest things you might see on a rugby field for some time. Newland went to the trouble of getting Shoemark out of the way in order to make a ridiculously late shoulder charge on Stephen Brett, earning a yellow card with honours.
This was not the only Hawkes Bay loss of the night. First five-eighths Daniel Kirkpatrick staggered out of the game after 17 minutes, having been KO'd after diving head first at a charging Matt Todd, the Canterbury loose forward.
Kirkpatrick had nailed three sweet penalties by that point, and his replacement Horrell added another to give Hawkes Bay a small halftime advantage.
Aussie league convert Luke Rooney, who played a handful of tests for the Kangaroos in the 2004 and 2005 seasons, had a few confused moments on defence at fullback. Canterbury didn't appear to target him in particular, but the crowd did, delighting in his lesser moments.
The Melbourne Rebels-bound Rooney is on a learning mission, and he wasn't alone in that last night. Among the strugglers was discarded test lock Isaac Ross, who had a couple of sloppy moments.
FULL TIME SCORE
Canterbury 23 (S. Maitland, T. Umaga-Marshall tries; C Slade 2 con, 3 pen)
Hawkes Bay 23 (H. Elliot try; D. Kirkpatrick 3 pen, A. Horrell 3 pen). Halftime: HB 17-13.