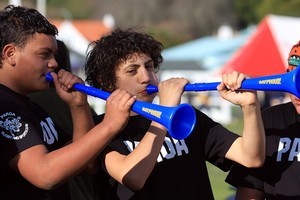 It's the vuvuzela versus the cowbell.
Waikato and Bay of Plenty will play out the first inter-franchise skirmish in this year's national provincial championship, accompanied by a drone and a clanging that will have the purists reaching for the earplugs.
Bay of Plenty ordered 1000 of the African horns and the initial batches have been snapped up, suggesting an unpleasant cacophony awaits those who venture to Waikato Stadium this evening.
The Mooloo men will need no reminder that the last time they beat the supposed junior partner of the Chiefs franchise was 2003.
Throw in the fact that Greg Smith, whose reign at Bay of Plenty was brief and unceremonious, now sits on Waikato's brains trust with coach Chris Gibbes and you have a home side not lacking in motivation. "As this is the first game of the season we are all amped to get into the swing of things. We have been training hard and the boys just want to get out there and play.
It's always a tough battle with the Bay and to have them first up, and at home, is going to make for a special game," Gibbes said.
Waikato are bolstered by unwanted All Blacks Liam Messam, Aled de Malmanche and Brendon Leonard, while there will be interest in the ITM Cup debut of Brumby Christian Lealiifano, who will start at fullback.
"The Steamers are an attacking team and will be a challenge but we are confident we have the 22 players to do the work," said Gibbes.
For the Bay of Plenty, Dan Waenga has been given the task of filling the boots of injured All Black Mike Delany.
Others to make their Bay debuts are Luke Andrews, Taniela Moa and Brett Mather, with Chad Tuoro and Lelia Masaga likely to come off the bench during the game.
In the 4.30pm kickoff, Counties Manukau face Otago. Much of the attention, if not all, will focus on the return to provincial rugby of Tana Umaga. The 79-test All Black has shrugged off flu symptoms to start at second five-eighth at Pukekohe.
There has been little to split these two sides in NPC history, with Otago nudging ahead 17-14 in recent years.
In today's early match, Southland will be favoured to beat an injury ravaged Manawatu, while Wellington should be far too strong for Tasman in the final match of the round tomorrow.