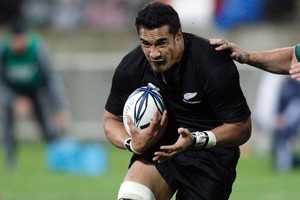 Jerome Kaino thinks he has shed the L-plates, finally.
It has been a lengthy apprenticeship, one which began in black in 2004 when he was taken as a rookie on the tour of Europe and played against the Barbarians.
Now after consistent seasons he is feeling comfortable about test rugby. Not satisfied but confident in his ability to perform at regularly high levels in the toughest rugby arena of all.
When he began the journey in black, Kaino was a dasher, a young man with attacking intent and an athletic ball-carrier.
Those traits remain but he has welded an iron defensive core to his skills as he has come to realise without that, winning test rugby consistently becomes more difficult.
"I have always had it in my head that defence wins championships and games and I still stick by that," he said.
"When you are on defence and put in a good tackle you get a buzz and so do your teammates. It is a heck of a feeling."
Kaino is also energised by the law tweaks which have once again changed the rugby dynamics this season.
"I guess with the rules it sort of suits my game more than it has in the past," he said.
"This year I think I have finally come to grips with how I can play the game effectively and work with Richie [McCaw] and Kieran Read a lot better."
Kaino loved the way the ball was in play much longer and how teams were reluctant to kick possession away unless there was no other option.
"I love attacking and getting the ball and also the way other teams want to attack too.
"I also like to defend and slow their ball down. The whole thing suits my game I think," he said on the eve of his 30th test.
"I think it helps everyone because you can work out how effective you can be with the ball. The game has tightened up too.
"In our game plan, I have to be tight if my mates are ranging wider and that's fine by me."
Kaino admits he is one of those blokes who needs early action to get into the rhythm of a test, he has to get his mitts on the ball or make some strong tackles to sort out his concentration.
The more involved he gets the better he plays.
His confidence has also risen.
He does not worry about being seen. He knows if he does the work that matters, if he grafts all game the coaches' analysis will pick up that involvement.
It was a demanding job but if Kaino ever pondered taking some shortcuts he looked at his captain, Richie McCaw, as an example for endurance and consistency.
"You know you just have to knuckle down to it," he said.
The All Blacks have won well against the Boks. They have been well motivated after taking some beltings last year.
The Wallabies would bring similar underdog emotions to Etihad Stadium tonight.
"They will be up for it and we have it in our heads that we need to reinvent the emotions we had before the Boks series," said Kaino.