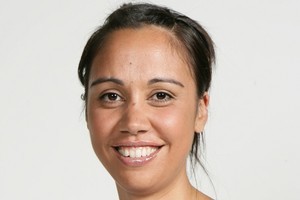 Former beach volleyball star Anna Scarlett has been fast-tracked straight in to the Silver Ferns team for the Commonwealth Games just six weeks after announcing she was returning to netball.
Scarlett is one of three recalls for the Ferns 12-strong team for Delhi, alongside fellow defender Leana de Bruin and shooter Daneka Wipiiti.
The latter two missed last year's international programme through pregnancy.
The real surprise in the announcement was the inclusion of Northern Mystics attacking utility Grace Rasmussen, who shared the wing attack role this season with veteran Jenny-May Coffin.
But the 23-year-old impressed at trials, earning high praise for her work at goal-attack and the remarkable gains she has made with her fitness.
Rasmussen's inclusion in the team comes at the expense of Canterbury Tactix shooter Anna Thompson, who made her debut for the Ferns last season.
Silver Ferns coach Ruth Aitken said it was a tough selection decision, but the versatility Rasmussen offers on attack earned her the nod.
"Grace is a dynamic and creative player who provides the Silver Ferns with strong options both in shooting in the midcourt."
"The screams that came down the phone last night when I called her made my heart burst," said Aitken.
Scarlett, who has played 39 tests for the Ferns and was part of the team who won gold at the 2006 Commonwealth Games, played her way into this Ferns team at this week's trials. Aitken said while Scarlett was still rusty - after three years away from international netball - she offered a lot in her aerial style of defence.
The Silver Ferns will begin their build-up to the Commonwealth Games next weekend with a one-off test against Samoa. They also have series planned against Jamaica and Australia.
Silver Ferns team:
Liana Barrett-Chase, Leana de Bruin, Temepara George, Katrina Grant, Joline Henry, Laura Langman, Grace Rasmussen, Anna Scarlett, Maria Tutaia, Irene van Dyk, Casey Williams, Daneka Wipiiti.