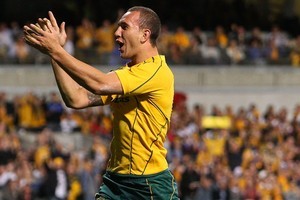 Going on the Tri-Nations matches so far, New Zealand and Australia are playing a very similar game which will make for a fascinating contest in Melbourne tomorrow night.
Australia will have their work cut out, but they are not without hope.
Against South Africa, the Wallabies almost imitated what the All Blacks had done in two tests. They did very little kicking and counter-attacked against the South African kicks. This is great for the spectators of course - although perhaps not South African ones.
Last year, South Africa dominated the competition because they had very good tactical kickers and under the old rules, which made it harder to retain possession, Australia and New Zealand struggled to cope against that.
What I really like about this current All Black team is that the players are all getting back to help each other. There is always a teammate in support off the shoulder.
The Australians will really miss the suspended Quade Cooper. I thought he had a superb game in Brisbane and you could see that Maori flair - he has wonderful hands and has grown in confidence. The game needs superstars and personalities, and Cooper looks like he will fit that bill.
If he can stay away from injuries, he has a massive future and will be sorely missed in Melbourne.
Man for man, the All Blacks are also better defenders.
Graham Henry seems to have been caught with his pants down after a sneaky photographer was able to snap a picture of tactical plans that the All Black coach was holding.
The All Blacks may be crying foul, but stories like that sell newspapers. Newspapers will do whatever they have to in order to get sensational stories - that's the name of their game. Henry should have known better than that.
But at the end of the day, I don't think the All Blacks will be too brassed off and it shouldn't have much of an effect, if any.
It will again come down to which team really fronts up on the night. Expect a few fireworks up front.
Aussie flanker David Pocock had a terrific match against South Africa and Richie McCaw will have a challenge on his hands tomorrow night. A few Wallaby stars of the past, such as Phil Kearns, reckoned early in the week that the best way to fight McCaw was to follow his lead and operate on the borderline of the rules.
McCaw openly admits he plays that way, which is what he has to do.
George Gregan, the famous Wallaby halfback, was one of the best I ever saw at living on the edge of the rules.
Gregan would test out the referee early on, to see what he could get away with. If the ref was whistle happy, he would back off a bit.
But McCaw is so good that I can't see him being beaten. The All Blacks will win this game by about 15 points.