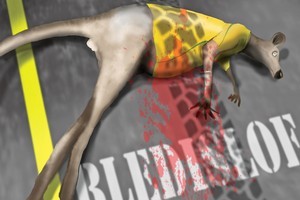 The time has come for the Wilting Matildas to front up and restore the Bledisloe Cup series to former glories.
Going on the first three matches of the Tri-Nations series, the All Blacks are primed to give the Wallabies another hiding in a series that needs a serious makeover after years of All Black dominance.
Richie McCaw's men appear to be in a ruthless mood, though, and have clearly been the best of the three sides so far.
What a pleasure to find the All Blacks' reserve hooker Corey Flynn so bullish going into Saturday night's game.
"We know we've got a pretty good game plan to take these guys apart," said Flynn, a man whose body is always falling apart.
All power to Flynn, because the timid, false modesty that has blanketed the All Blacks over the years was a lot of boring nonsense.
Talk tall and you will also walk tall, and the All Blacks have every reason to approach this game believing they will rule Australia in the home of Aussie Rules.
Out of the ashes of 2009 has emerged a remarkably confident and upbeat All Black side that has played some smashing rugby this year.
Australia still has far too many weaknesses, particularly as prop Ben Alexander is injured and with a half-baked No 8 in Richard Brown in the pack.
The Bledisloe Cup needs to be more competitive. Australia have been flops since 2003, when the All Blacks ended a period of Aussie dominance.
Since then, the scoreline is an embarrassing - for Australia - 16 wins to three.
An Australian win on Saturday would do wonders for the lustre of the old trophy.
There will be a lot of interest in what sort of game emerges between two Southern Hemisphere sides embracing the new rule interpretation, which make it harder for defenders to dispute possession and thus encourages sides to keep the ball in hand.
In Australia's case, they have no option but to move the ball around, but the power of the All Black tight five, with Brad Thorn still leading the charge, gives Henry's men options.
This column's pick: the All Blacks to win by 12 to 18 points.
* * *
*No offence, North Harbour, but hopefully your side will sink without trace in this year's provincial rugby competition and never be seen in any heights again. Looking at the squad list, I'd say there is every chance.
I'll argue forever and a day that the Blues, upon whom the city's rugby fortunes increasingly depend, will never reach their potential again, or maybe even rise out of their slump, until there is one completely dominant (Auckland) organisation underneath. The Blues could do with a new and more vibrant leadership as well.
Perhaps different people could have made the situation work, but the split union bizzo has to be rated a disaster in the professional era.
Auckland/North Harbour is a false divide anyway - this is one major city with fairly distinct regions. Having a separate team on the North Shore makes as much sense as forming an NPC team in West or South Auckland.
Either the NZRU had to dump the Highlanders and relocate the franchise to Albany, or else North Harbour needed to be scrapped.
The North Harbour concept worked fine in another era, but those days are long gone.
If the administrators won't play God, natural selection might sort the situation out.
* * *
*Ron Cheatley wants the media to finally give Julian Dean his dues, so here goes. Dean's performance in the Tour de France was magnificent.
"At last maybe a few of the media will recognise Julian's feats, because those who don't understand cycling have always underrated him," said Cheatley, the old coaching guru.
Therein lies the problem, though, Ron, because the public at large doesn't understand cycling or care about it for most of the time.
A lot of cycling, including the big road races and track events such as the points race, are a mysterious business that we take an interest in - or celebrate - only when Kiwis do well. That is the case for many minor sports, here and overseas.
Cycling is a niche sport in New Zealand. To grasp someone's worth in such sports, they need to come up with big performances in an easily recognisable event.
There is another problem, of course. The Tour de France's reputation has been smashed in the general public's mind by drug offences and allegations.
Still, I know a lot of people who love watching the famous race and drool over the scenery and locations, along with a surprising number who have gone to France to watch the tour and even taken part in the public category.
Some are not all that bothered about the drug allegations, either. Peddlers might push drugs but drugs don't push pedals. The cyclists still have to do all the hard work. (Genetic engineering will likely render drugs obsolete in sport anyway - and gene doping will be almost impossible to detect).
So a mighty "well done" to Julian Dean who is receiving lofty accolades for his three podium finishes. The way the sports recognition game works, Dean will get more of what Cheatley craves on his behalf if he nabs a Commonwealth Games medal in India.
* * *
*This column will gladly eat humble pie over Ivan Cleary's Warriors this season. The Warriors had a bit of a hiccup against the Bunnies on Sunday, but you can't win them all at this level, especially when the low salary cap encourages a homogeneous club system.
Five previous wins in a row have the Warriors handily placed, and Cleary has done a brilliant job in restoring the team despite injuries, including to leading props Steve Price and Sam Rapira.
The jury is still out on whether Cleary can become a title-winning coach - the benchmark the Warriors must set. But for now, you can only tip your hat to a fine coaching performance, with the team playing as a cohesive and physically threatening unit.
What a relief to find the Auckland side in the hunt. Another dud year would have been a tragedy and the Warriors will have to fight for every bit of publicity in 2011 when - cue drum roll and trumpets - the Rugby World Cup comes to town.
As for shining lights, the atom ant Lance Hohaia continues to amaze with his ability to scuttle over large distances, and often through heavy traffic. Opponents appear to have a decent shot on the little fella, only to find he has glided by.