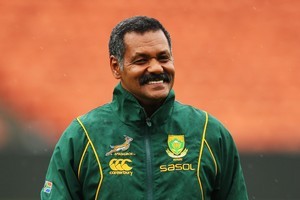 The great shame will be if the Boks ever ditch Peter de Villiers as their coach.
On several fronts de Villiers is gold. He is automatic copy for journos on a slow news day, full of unusual quips, retorts and observations. He is also priceless for opponents who know some de Villiers outbursts will rile his own team.
How much longer the ever-so-sensible captain John Smit and his crew put up with de Villiers will be a fascinating part of the Springboks' timeline towards the next World Cup.
South Africa are required to have a number of black players and staff but they need some more astute selections. De Villiers is the bloke who wants to be in top rugby, who wants to "run with the big dogs and lift his leg" as well. Get the picture?
The bloke carries a permanent entertainment rating if you can decipher his high-pitched intonation but he is harmless compared to some of his predecessors.
Remember Rudolf Straueli, who coached the 2003 World Cup side and put them through hell at Camp Staaldraad where they were forced to sit for hours in water pits, listening to God Save the Queen and renditions of the haka.
And in the years since isolation ended in the Republic there was Andre Markgraaf who was fired in 1997 because of his racial comments.
The French have had a few notable coaching classics. At the 1991 World Cup, incensed France coach Daniel Dubroca pushed New Zealand referee Dave Bishop in the tunnel and accused him of being a cheat after his side was beaten by England in the quarter-final. Not long after, Dubroca resigned.
The All Blacks have had their share of unusual characters. John Mitchell's "journey" has been interrupted and Laurie Mains' outbursts have quietened but they were mild convulsions compared with the behaviour from some of their international colleagues.
Sir Clive Woodward had regular moments when he was running England, the late Greg Smith had some very unusual theories with the Wallabies, as did Dave Brockhoff.
Former Kiwi Dave Waterston was not shy about being in the spotlight as he coached Tonga in 1999 and Namibia in 2003 and spiced up his work with comments that referees had to "lick the backsides of big nations" if they wanted to keep their jobs.
We are all the better for some extra colour from the coach's box, the sort of "kick it to the shithouse' pleas from Bob Dwyer as the Wallabies staggered towards their first World Cup title in 1991. It is just better if other countries have to deal with it on a regular basis.