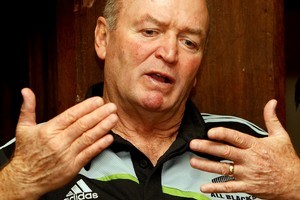 Graham Henry believes rule changes have been a positive for the game, as a spectacle and as an enjoyment.
The All Blacks coach said: "As far as we are concerned, obviously you have got to get your tactics right for Rugby World Cup, but kicking the ball away now guarantees a loss, whereas in 2007, giving the ball away didn't."
New Zealand have adapted quicker and more effectively to the new law changes than any other nation. The rugby they played in Auckland and Wellington in the opening Tri-Nations matches of this season represented a compelling spectacle.
"Why can't we carry it into a World Cup," Henry demanded? "We played the same way against France last November, the same way in the last four test matches in New Zealand, all with reasonable results.
"The rule changes have meant the side with the ball has the advantage so why would you give it to the opposition, whether it's a World Cup or not?
"At the last World Cup we were playing with the old interpretation of the law which made it a lottery at the breakdown. Now you can win your own ball fairly quickly. The opposition know it's difficult to turn it over so they are giving you that latitude."
The challenge now is what Henry calls the "picket-fence defence" because people were not committing to the breakdown unless they had won the contact initially over the advantage line. But he agrees that at least the ball carrier now has options - go wide, attack short, one or two out, or dribble the ball through a flat defensive line, forcing them to turn.
"There is still the capacity for teams to stifle and shut down opponents if they want to. And that ability is still important. But if the opposition have got parity at scrums, a side has to find another way. Under these law interpretations that is possible."
Perhaps surprisingly, he believes the Northern Hemisphere countries will come to the party later this year.
"Last year, they didn't start their season with these interpretations and to be fair, it's bloody hard when you have been playing half a season to switch suddenly to another interpretation. I am sure you will see a much more ball-in-hand style of game emerging next season there. The players are good footballers, they can adapt."
Graham Henry's name is fated always to be associated with the World Cup. But if it is to end in triumph, he must negotiate a significant disadvantage confronting New Zealand in the run-up to the competition. Henry calls it their biggest challenge of the year.
"We don't have contact with the All Blacks from the beginning of December until almost the end of July when we start the Tri-Nations. That is a huge amount of time.
"We have no camps because they are playing every week. Six months is a long time not to have contact as a squad and how we handle that is our biggest challenge.
"There is no solution to it. You can't take them out of the Super 15. It's a big difference to the Northern Hemisphere countries, who will be together for eight weeks for the Six Nations and then meet up again when the season ends in late May.
"They have June, July and August, their off-season, to build for the World Cup and, come September, they are going to be as fresh as daisies.
"When we do come together, we are going to have to do so very quickly. So I think it will be important we finish this year well and things are in place so we can regenerate quickly."