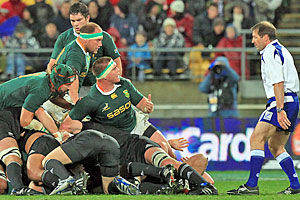 The South African Rugby Union (SARU) is taking action in addressing what it believes is bias against the Springboks team from referees and the judicial process.
The move comes in the wake of the two Tri-Nations losses to the All Blacks in New Zealand this month.
Lock Bakkies Botha was shown a yellow card for persistent offending and later suspended for nine weeks for a head butt during the first test in Auckland.
The second test in Wellington saw lock Danie Rossouw sinbinned for a light kick to All Blacks captain Richie McCaw while winger Jean de Villiers was banned for two weeks for a lifting tackle.
There was South African angst that McCaw escaped a yellow card despite Irish referee Alain Rolland delivering multiple warnings for repeat offending.
Springboks coach Peter de Villiers and vice-captain Victor Matfield criticised the handling of the Wellington test, with De Villiers saying that he is considering coaching his team to "cheat" on the field.
"As a coach, you don't want to coach your team to cheat, but maybe that is something we are going to have to consider," he said.
South African Rugby's manager of referees, Andre Watson, did not want to comment on Rolland's performance in Wellington,
"I looked at the ref, and he made some brilliant decisions and some not-so-good decisions," Watson said.
"I can't say if the Boks got a raw deal from the referee because if I do say that that is the case, then South Africa will love me and the rest of the world will hate me, and if I don't feel that way, it will be the other way around."
SARU president Oregan Hoskins told the Cape Times newspaper that he had instructed South Africa's representative on the Sanzar legal committee, Judge Lex Mpati, to "take up" the apparent inconsistent rulings against the Springboks.
"On the judicial side, I have asked Judge Mpati to take it up," Hoskins said.
"A number of stakeholders have complained to me about the lack of consistency in the rulings of the judicial officials in rugby.
"I have stressed to Judge Mpati the seriousness of the matter, and he has promised that he will come back to me in writing hopefully by next week. I don't want to say too much further, as previously I have spoken about the issue in the media and nothing has been done about it."
- NZPA