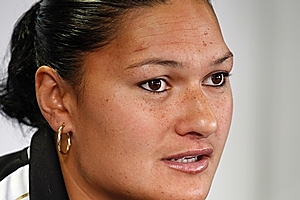 New Zealand's Olympic gold medal shotputter Valerie Vili collected another second place in her on-going battle with arch-rival Nadezhda Ostapchuk.
The Belarussian, who ended Vili's 2-1/2-year winning streak at the world indoor championships at Qatar in March, won the Diamond League event in Paris overnight (NZT) by 65cm.
It is the fourth successive time Ostapchuk has beaten Vili, as the New Zealander looks to rebuild her form under new coach Didier Poppe after parting ways with long-term mentor Kirsten Hellier in April.
Ostapchuk managed only two legal throws, and it was her second-round 20.78m effort which won.
In contrast, Vili scored with six counting throws, her best coming in the fifth round with 20.13m. A second-round 20.10m came close, with the other efforts ranging between 19.37m and 19.90m.
Third place went to another Belarussian, Natalya Khoroneko-Mikhnevich, on 19.47m.
Another New Zealand Commonwealth Games hopeful, javelin thrower Stuart Farquhar, finished seventh in his event in Paris with a solid 77.93m effort. The event was won by Norwegian Andreas Thorkildsen with 87.50m.
- NZPA