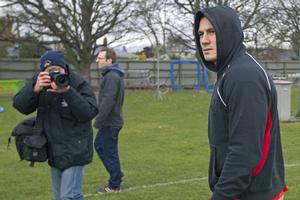 Besieged by journalists, Sonny Bill Williams is asked if he thinks he will find any peace in his new hometown.
"I dunno ... if you guys give me some peace," he says with a broad smile. "Nah, it's all good, bro. It just comes with the territory of being back in this part of the world, I guess."
The media onslaught yesterday after his arrival in Christchurch is nothing new to this colourful rugby league star turned Canterbury rugby union player and All Black hopeful. Throughout the world he is hot property to journalists and the sporting public.
He wants to be seen as "just a Kiwi boy who's coming back home to have a crack". But the 24-year-old has had to learn the hard way to handle the intense interest in his life on and off the sports field.
Perhaps that is why he seemed so at ease - charming even - as about 30 journalists closed in on him as he took his seat in a weather-beaten Christchurch rugby grandstand yesterday.
In freezing rain - a world away from the luxurious climes in the south of France he had been used to - Williams knew just what to tell the parochial locals: "It's not as cold as I expected it to be."
The Kiwi journalists "are definitely nicer" than he was used to in Australia.
Reporters there pulled no punches after he infamously walked out midway through a contract with Sydney NRL club Canterbury Bulldogs two years ago to join French rugby club Toulon.
A photographer "rocked up" to Williams in Christchurch on Friday and asked if he could take his picture.
"If this was in Australia, he would be [already] snapping away."
So how does he handle the intense public interest in him? "Just cruise. You have to have that cruise mentality. If you get caught up in all the stuff off [the field], it's not going to help you on it. You just got to try and keep your life as simple as you can. And that's what I plan on doing. That's another of the reasons why I came to a place like Christchurch, just to get away from it all, and fully concentrate on my rugby."
He's already had a bit of teasing from his new teammates. About him being a superstar? "Aw, cuz."
One journalist suggests he will have the luxury of being "number three superstar" in Canterbury, behind Richie McCaw and Dan Carter, instead of number one like he's used to.
"Nah, I don't even know if I will be in the top 10," he replies. "There's a lot of media attention on me arriving here. But for me, this is nothing unless I prove myself on the field."
Williams spent a day with family in Auckland before arriving in Christchurch, and once settled in his new home will bring some of them down to be with him.