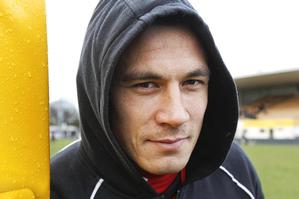 Sonny Bill Williams doesn't know when he will first play for Canterbury in the national provincial championship but is fully aware that it could be his gateway to an All Blacks rugby jersey.
"I've got 10 to 12 weeks in the ITM Cup to try and put my name in the frame. I just want to have a strong Cup campaign and work from there," Williams said today in his first media session since arriving in Christchurch.
He touched down yesterday, having undergone keyhole surgery in Australia to repair some minor ligament damage to his right knee.
Although Williams reported the recovery as "going very well" he is unlikely to be available for Canterbury's opening match, at home to Hawke's Bay on July 30.
"I'm doing rehabilitation work in the gym at the moment and hopefully by the end of next week I'll be jogging then I can resume training the week after. The reports on the knee say that it was a very successful operation."
The former Kiwis and Canterbury Bulldogs rugby league star signed for Canterbury after playing rugby union for French club Toulon over the past two seasons.
The 24-year-old makes no secret that he wants to play for the All Blacks in next year's World Cup in New Zealand.
"As soon as I became a rugby player my goal was to try and become an All Black but that didn't really hit home until I started to hear some noise back here that they wanted me to come back."
Williams said another influencing factor was former All Blacks captain, Tana Umaga, who coached and played alongside Williams for Toulon.
"He actually gave me the last test jersey he played in on the night before I left to come back to Australia from France. The decision was still up in the air then but when I had the jersey ... " Williams said.
Listening to some of the big-name players at Toulon tell of their World Cup and test match experiences also whetted Williams' appetite for international rugby.
"Hearing just how excited and how emotionally pumped they were about playing for their countries was one of the big factors behind my coming here to have a crack.
"Even if I don't make the All Blacks at least I'll know when I'm 40 or 50 that I gave it a crack."
Williams said he had yet to meet world class All Blacks first five-eighth Dan Carter, a player who could help shape his rugby career, particularly if he is chosen regularly to play outside him at second five-eighth.
"I'm looking forward to meeting him and the rest of the All Blacks boys. I've met Brad Thorn (All Blacks lock and fellow rugby league convert) a couple of times and he's just got bigger! I've had a few laughs with the (Canterbury) boys, probably at my expense, and there's been a little bit of teasing but it's all good.
"At the moment I'll be playing with a lot of young boys and whether I can learn off them or off Dan Carter or Richie McCaw I'm all for it. I'm here to learn my trade and hopefully to improve my footy."
- NZPA