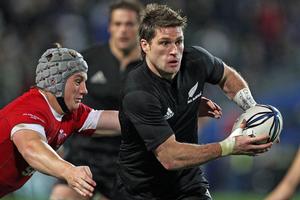 The All Blacks' official player guide lists Cory Jane as a fullback or wing. But coach Graham Henry was unequivocal yesterday, Jane was an international wing.
He has started 10 of his 15 tests on the right wing and in Saturday's 29-10 victory against Wales in Hamilton was a strong player in a muddling performance.
There were gaffes in his game, such as a no-look intercept pass, but Jane's unorthodox mixture of deceptive skills on the right wing was a combination which demanded multiple marking from Wales.
Jane got across the chalk for what looked likely to be the solitary All Black try until replacement Aaron Cruden scored in the final minute when Welsh fullback Lee Byrne made a hash of cleaning up a grubber kick in the in-goal area.
"We had a few opportunities to score a few tries, but basic catching or someone not passing the ball or someone dropping it let us down," Jane suggested.
The All Blacks made enough breaks, the winger said, but they were impatient or did not build enough pressure to convert those chances.
A repeat effort in the Tri-Nations series, starting against the Springboks at Eden Park in a fortnight, would not be good enough against the titleholders, Jane said. The All Blacks will reconvene on Thursday, working steadily through their preparations to find a victory against a side they could not beat last season.
Jane said the focus had been on winning well in Hamilton, the Tri-Nations had not been mentioned. "We wanted to win these three games then look ahead," Jane said.
He felt the modest return in Hamilton came because the attack was too flat and players ran too hard at gaps instead of spreading possession. The Welsh defence was much better than it had been at Carisbrook, he said, while the All Blacks needed to have more fun on counterattack.
"The Springboks will keep kicking and we have to keep counterattacking," he suggested. "We showed if everyone is working for each other then we can punish some teams. No doubt they will kick to us, but if we keep working hard we can turn their kicks into tries for us or put them under pressure so we just have to keep working hard."
The All Blacks wanted to play a territory and strong chase game in Hamilton, but let themselves down in both areas. They were also met by a more resilient Welsh side. The net result was the All Blacks made a rash of handling errors, did not get a scrum feed until the 52nd minute and conceded a number of turnovers.
"The guys were happy, but realise it could have been better," was captain Richie McCaw's underwhelming review of a night in which Dan Carter edged further up the points-scoring record list.
Much of the game was messy, mind-numbing enough for a Mexican wave before the interval and for one bloke to streak into captivity at halftime.
Wales coach Warren Gatland was "gutted" his side conceded a second try, disconcerted at their penalty concessions and two yellow cards but felt that his side had stepped upin their final test of the season.
The All Blacks used their entire bench in the second half. There were blood-bin interchanges with Tony Woodcock and an injury precaution with Benson Stanley, and their attempt to give Adam Thomson a run meant that at one stage Jerome Kaino was used at lock. Those mix'n' match ideas produced similar results.
On the left wing, Zac Guildford was busy, involved in holding up two Welsh attacks over the line, but his Tri-Nations fate was obviously decided before Saturday's test. Mils Muliaina was able to play an entire game because of the stop-start flow, Richard Kahui looked extra sharp, Brad Thorn thumped away and Kaino was solid after his leg injury layoff.
Areas to work on? The scrum was unsteady, but it had multiple changes, neither starting halfback Jimmy Cowan nor Piri Weepu appeared to get a serious grasp on the game while the handling was just average.