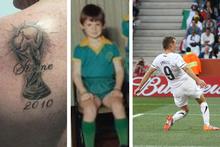 As All Whites striker Shane Smeltz lined up against the world champion Italians, his dad sat nervously in his Queensland living room.
Cairns bus driver Eddie Smeltz, sporting a new tattoo recognising his son's journey to the World Cup finals, sat clutching his wife's hand, hoping for the best.
But after the Kiwi sharpshooter's seventh minute strike against an Azzuri side ranked fifth by Fifa and worth a combined total of $330 million, Mr Smeltz was considering another tattoo.
"We have watched Shane grow up and do well in his rep teams and do well in the A-League, and getting to the World Cup was such a fantastic thing as well," said Mr Smeltz, who moved from West Auckland to Cairns with his family in 1989.
"But to score a goal in a full stadium at the World Cup finals against Italy? It's just an amazing thing, incredible ... it's really hard to describe just how proud we are."
Mr Smeltz said the remainder of the match following the Italians' controversial 29th minute penalty was "quite a stressful experience" and a far cry from when Smeltz began his football career with the Oratia Smurfs in the late 1980s.
"We were wishing every second would pass faster than they did and when they finally added four minutes at the end ... well, we just couldn't believe that," he said.
"The Italians' diving wasn't helping ... we were just sitting here holding each other's hands and hoping for the best."
Asked if he ever thought the All Whites would be in contention to do the unthinkable and be in a position to qualify for the second round, Mr Smeltz replied: "Actually, I did.
"Ricki [Herbert] has been pulling that team together for a long time now with the players from the Phoenix. They have proved that they're quite a hard team to break down," he said.
"I would say that this is one of the best teams, if not the best team, we have ever had."
He last spoke to his son just before the All Whites' match against Slovakia.
On Saturday morning he got a tattoo of the World Cup with his son's name across it.
Mr Smeltz, who said his Australian workmates were rapt with the All Whites' progress, thinks New Zealand are a good chance to foot it with Paraguay when the teams meet on Friday morning.
He expected Paraguay to keep the ball on the ground but said New Zealand, with keeper Mark Paston and the defence playing "absolutely superbly", had been able to hold tight at the back.
"They have a chance to draw at least. The guys will be confident and really, really motivated."
Smeltz's former Napier City Rovers coach Charlie Howe, now Wellington ANZ district manager, was also quietly confident.
"I think we will be a real threat. We are well-organised and we have players who can win us games," said Howe, who took the then-20-year-old Smeltz under his wing in 2001.
"Paraguay are a very good passing side but we might be a bit unorthodox for them.
"We also have a really in-form striker with Smeltzy."
Howe said he was amazed by Smeltz's great first touch and clinical finishing when the Rovers snapped him up from the Brisbane Strikers nine years ago.
That year Smeltz won the National League Player of the Year award and the Golden Boot with 20 goals.
"He was pretty raw when we got him but the one thing he did have was an incredible instinct for scoring goals.
"I don't think that has changed. It's probably sharpened if anything."
By James Ihaka

Email

James