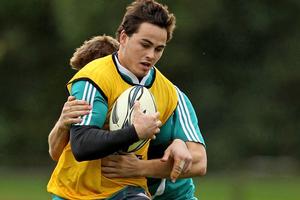 For one of the All Blacks' big movers of last year, Zac Guildford has struggled to hide his frustration at not getting first crack at their test rugby season opener.
The under-20 and Hawke's Bay star who burst onto last year's All Blacks tour with an impressive debut against Wales, then followed through with a solid finish to the Super 14 for the Crusaders, was handed a bench spot against Ireland last week.
It made things even tougher that his two best mates in the team, debutant Israel Dagg and Cory Jane, got run-on spots and Joe Rokocoko pipped him to the No 11 jersey in the absence of injured frontliner Sitiveni Sivivatu.
Guildford got nearly 20 minutes at the end, after the damage was done in the All Blacks' 66-28 win in New Plymouth, but he hopes the benching doesn't become a habit.
"I need to hold myself back at training sometimes. When you're not named in the starting 15 you fly in a bit harder and try to prove yourself," he said.
"It is very frustrating, something that I'm not used to. There's some good players in the team and I might have to get used to playing on the bench the way the boys are playing."
Coach Graham Henry was due to name his starting 15 today to face Wales at Carisbrook, with the back-three again providing a welcome headache.
That's especially with veteran fullback Mils Muliaina returning to calculations this week after a calf muscle injury, while the likes of Rene Ranger, Rudi Wulf and last year's All Blacks tourist Ben Smith missed the cut for the first squad of the year.
"It creates competition, it just brings out the best in the boys and you saw that the other night," Guildford said.
"It's pretty tough, there's only three spots and we're pushing each other pretty hard. It's good, we're bringing out the best in each other, a bit of pressure in training."
The same pressure is going on in the front row where last year's incumbent props Neemia Tialata and Tony Woodcock missed out to the in-form Franks brothers.
Tialata conceded the youngsters had earned their starting spots on form, but it was tough to take given he rated his own Super 14 season for the Hurricanes as "one of my best for a long time".
"I'm definitely hungry to be in that starting 15, particularly after last week's performance," Tialata said.
"I was disappointed but the Franks brothers have worked very hard this year, coming off a successful campaign with the Crusaders.
"They deserve it. I'm not going to put my head down, just keep working and put a smile on my face."
Tialata still got game time in New Plymouth and even scored what he called a "lucky" try. He admitted the latest law interpretations, which meant faster recycling of possession, meant he needed to work even harder to stay on the pace.
"Especially with the new laws it's always going to be a work in progress for me. More ball running and a lot more tackles and not many scrum resets... a lot of running."
- NZPA