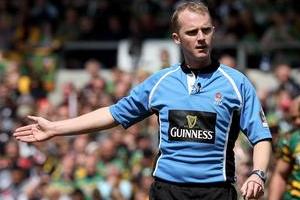 Crouch, touch, pause, engage - here comes referee Wayne Barnes.
The All Blacks bete noire from the 2007 World Cup is in charge of the side's opening test against Ireland in New Plymouth.
Barnes has been refereeing under the old law interpretations in Europe, but like Ireland, will need to get up to speed with the tackled ball and breakdown changes.
Hopefully the scrum, too, which All Black coach Graham Henry thinks has become the most troubled area of the game.
He believes tighthead props have been allowed too much leniency, boring in on their loosehead opponents who then get penalised.
"That is a major weakness in the game at the moment which is frustrating because you are getting a lot of resets and messy scrums because the props are not pushing square and if they had head and shoulders above hips and all pushed square we would have a bloody good foundation to work from," he said.
"I don't know why, I can't find the rationale, I can't understand why people cannot see what I see.
"I just see the tighthead boring in on the hooker and the loosehead has got nothing to push on so he has to angle in, he has nowhere to go and gets penalised."
Officials were doing strong work policing the tackle but there would be challenges in June because the Northern Hemisphere officials had not refereed those changes.
Barnes will control the opening test, George Clancy the next, while Jonathan Kaplan is set down to whistle the last against Wales.