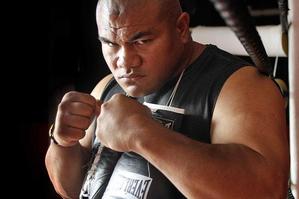 A row over ring girls at David Tua's latest come-back fight was just one stoush that almost kept the bout off television.
Broadcaster Maori TV and promoters Duco Events Ltd were still bickering up to the March 31 Fight Night.
In the end, the contract to screen the fight between Tua and opponent Friday Ahunanya was signed just two hours before the show was due to begin.
The details are contained in documents obtained under the Official Information Act.
Maori TV expressed frustration over the promoter's bid to have scantily-clad women carrying cards marking the round number and carrying sponsor's logos.
In the end the women were there, as was alcohol sponsorship, which was an exception to Maori TV's alcohol ban policy.
In a long email to Maori TV CEO Jim Mather, Duco Events spokesman David Higgins also justifies, calling the channel "parasites", claiming the channel cost Tua $1 million.
Duco Events claimed a Maori TV staff member threatened violence.
Tua might be the biggest loser so far. It was still not known when and who he will fight next, after a scheduled bout in July against US journeyman Monte Barrett.
His ambition of a world heavyweight title fight is just that - still an ambition.