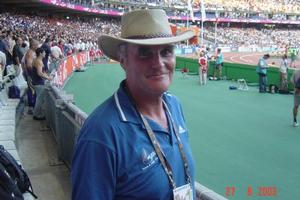 This is likely the man who will coach world champion shot putter Valerie Vili after the end of the partnership with long-time coach and friend, Kirsten Hellier.
He is Didier Poppe - a renowned French international throwing coach who has settled in Auckland and who knows Vili of old.
Poppe is a former national coach of France and has taken several athletes to Olympic Games and world championships.
While some mystery still attaches to the Vili-Hellier split - Vili likened it to a "divorce" when it was announced - those close to Vili say Poppe was not the reason.
"No, absolutely not," said Vili's agent Nick Cowan yesterday - who was not aware of any training sessions Vili has had with Poppe in recent times.
"I know Valerie has worked with Didier quite some time in the past, but I can say categorically that he had nothing to do with it [the end of the partnership].
"That really did come down to the fact that the coaching relationship had run its course," said Cowan.
"It was time for new input and they both came to the conclusion that if Valerie was to perform to her best, it was time for a change. It had nothing to do with Didier or whether Valerie trained with him or not."
A tearful Vili, who is away over Easter, said at the time: " It's sad to be losing Kirsten from my team. It's been amazing what we've achieved together, but I have to do more yet."
Vili, 25, said the reason behind the decision was nothing personal but was "100 per cent professional" and came from a desire to become better at her sport through somebody with fresh ideas. An announcement is expected in a week or two.
The Herald on Sunday understands that Poppe is the most likely "somebody".
He fits the bill for two main reasons - he has a fine record as a throwing coach (discus, shot and javelin) internationally, having prepared athletes for several Olympics and world championships.
He also already has a track record with Vili.
As Valerie Adams, she and Hellier travelled to New Caledonia years ago during the New Zealand winter so she could train there. She worked with Poppe then - who was also training a discus thrower called Bertrand Vili, whom Vili later married.
Poppe was a French national javelin champion and became national coach after his career ended, even though he lived in New Caledonia.
French track and field has a long and successful record in bringing athletes from the "colonies" to France to compete under their banner.
Poppe was an IAAF coach and lecturer for many years and, when he finished up in New Caledonia, he decided to retire and emigrate to New Zealand. He lives in Whangaparaoa.
'Retirement' is a moot point, however, as he is listed on the Millennium Institute of Sport & Health website as a high performance coach and 'Head Event Coach, Throws".
He coaches a hot young thrower who dropped jaws at the New Zealand national track and field championships last week: 15-year-old Jacko Gill.
Gill set four age-group records over the two days, 19.92m with the 6kg shot and 20.88m with the 5kg ball, the former possibly a world record.
He has a fine background in the sport, with father Walter the national discus champion in 1975 and shot put champion in 1989.
Mother Nerida was the national women's discus titleholder in 1990.
"Our throwers have definitely improved since Didier has been around," said the head of Northsport Academy, former Commonwealth Games dual medallist Dave Norris. "He is very good at what he does."
Gill and Vili are throwing similar distances and another link between Vili and Poppe is that training with Gill could provide an excellent spur in training for both of them.
"Didier has a wealth of knowledge and a great manner in putting it across," said Walter Gill.
"He has done Jacko a lot of good. I had been coaching Jacko myself for a long time and my knowledge had just about run out. It needed fresh ideas and a fresh person - and I think that's what happened between Val and Kirsten after all those years.
"I think it would be great if Didier trained Val. She and Jacko could train together and she would struggle to throw further than him at times. It's far better to be pushed than to be alone at training or the one who always throws 10 metres better than anyone else."
There's only one slight question re the Poppe link - the connection to France.
The French have not had a track and field Olympic gold medallist since Marie-Jose Perec in 1996 and are known for their ability to throw money at a hot prospect.
However, Cowan reiterated Vili's long-term stance that she doesn't intend going anywhere else and that she loves living in and competing for New Zealand.