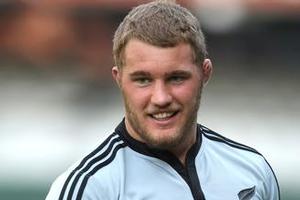 I thought it'd be great to have Carl Hayman back and I'm disappointed he isn't coming - but I don't see it as the end of the world.
Let's face it, not many of the players who have returned from the Northern Hemisphere are indispensable in World Cup calculations. No one, in fact, except perhaps Leon MacDonald and he came back from Japan, not Europe.
We all know about Luke McAlister's lack of form and, right now, we are watching Chris Jack try to win his way back. However, he doesn't even command a starting place in the Crusaders yet.
If you were coach, you'd have to be presented with a compelling reason to include him if your youngsters are performing well (which they are ...).
It's a different style of rugby, club stuff up there, and I think Graham Henry is right - it doesn't necessarily equip you for test rugby here.
Having said that, I always thought Hayman might have been one to buck the trend but I haven't seen much footage of him so can't tell what his form has been like; even though Newcastle haven't been doing that well.
We won't know now whether he'd have made the grade.
We still have a big lack of class tighthead props, although I must say Neemia Tialata did well enough last season to earn praise from me after pretty severe and sustained criticism that he wasn't an 80-minute player and not always effective in the 50-60 minutes he did play.
After him ... not a lot. Except for Owen Franks. I don't want to praise him to the skies or make him seem like the Next Big Thing but I like his style.
He is good technically but not, I'd say, any technically better than Tialata and other tightheads. The difference is in his mindset and mental approach.
He backs himself big-time, is aggressive on the field, mobile and does a huge amount of work in the rucks and mauls. If a flanker made as many tackles as he does, you'd be happy.
He works hard and has to be told sometimes not to train. He's done a lot to bring himself on - at school and in his younger club days, he wasn't regarded as much because he was said to be not big or strong enough. He's fixed that.
Again, I don't want to make him out to be a world-beater or the next Carl Hayman or anything like that - but he's a big hope, I'd suggest, for the World Cup.
There'll be a lot more talk about bringing Greg Somerville home now. He's a good prop, hard-working and an 80-minute player. But he may not be the hard, aggressive prop we need to take our scrum past the best in the world.
Somerville is also up north - and he played with a lot of Northern Hemisphere All Blacks in that 55-7 hiding the Barbarians were given by the Wallabies last year. I thought all the former All Blacks played poorly and many of them looked very former. Somerville also played that day.
The other thing we have to do to turn our scrummaging into a lethal weapon again is to get away from scrums that have become too formulaic.
I have said for some time that New Zealand coaching systems have become so common in style, our opposition know pretty much what to expect from any New Zealand team.
That extends to the scrummaging. Mike Cron, the scrum doctor, has done a fantastic job for New Zealand rugby but now all our props and scrums look much the same - and they are.
The game has changed and the rules don't help - like that crouch, touch, pause, engage nonsense.
In my day, you got to the mark quickly, set fast and gained an advantage. You can't do that now and it's harder to get one over on the other scrum.
So it would help if our opponents didn't know what to expect. Cron's scrumming disciples operate up and down the land and, while that has been a good thing, we are now turning out props not much different from each other.
The answer, I think, is for Super 14 franchises and provinces to develop their own scrummaging style and regional differences. Maybe it's only Canterbury and the Crusaders who have done that in recent times.
I'd also mention Hawke's Bay, who are coached up front by former Waikato forward Tom Coventry and I can see a lot of Tom in the way those forwards play.
We need a bit more of that kind of thing, I'd suggest, to develop (among other things) props who make our opposition think and worry more.