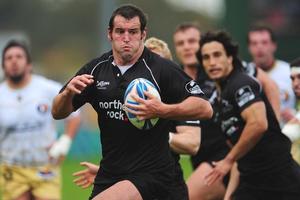 Details of the fabulous financial rewards for Carl Hayman to give up on his dream of returning to New Zealand to help the All Blacks win the 2011 World Cup were emerging last night.
Sources at French Top 14 club Toulon say the former All Black, regarded as the No 1 tight-head prop in world rugby, has negotiated a deal potentially worth over €1.86 million ($3.5 million).
The deal is believed to be for two years, with a further one year's option.
But the salary, €620,000 ($1.2 million) per season, is a formidable amount of money that raises the bar worldwide on the value of the best rugby players around the globe.
Revelations of Hayman's salary will bring broad smiles to the faces of Tri-Nations players such as Daniel Carter, Richie McCaw, Matt Giteau, Victor Matfield and others who may be thinking of moving to the Northern Hemisphere once the World Cup is over by the end of next year.
It is clear, however, that such riches are only available in France.
England's salary cap of £4 million ($8.5 million) per club makes them look the poor cousins of the European game by comparison with the French figures.
And this despite the fact the French clubs are reducing their own expenditure.
The sums involved go an awful long way to explaining why Hayman was prepared to risk ending his hopes of playing in the World Cup.
Add on the three years he has played at English club Newcastle, where he was believed to be on around £350,000 a season ($840,000 at the then exchange rates) for three years, earning him around $2.5 million during his time in England, and the figures start to become mind blowing for a player in a sport which has only been professional for 15 years.
If Hayman now stays another three years in Europe, he will have earned something in excess of $6 million, even allowing for the significant fall of the pound against the New Zealand dollar in recent years.
The fact that Hayman is joining a club in probably the best location in France, beside the Mediterranean, where the winters are short and rarely that cold, makes the deal even better from his point of view.