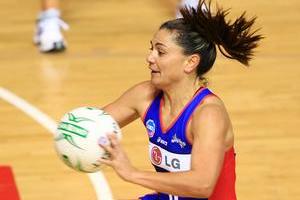 New-look Northern Mystics, but for now, same old results.
The Mystics lost four of their five matches at the weekend's ANZ Championship pre-season shakedown in Queenstown - their only win coming against the Australian Institute of Sport, who were invited to the tournament to make up the numbers.
The message from coach Te Aroha Keenan going in to the weekend was clear: "Results don't matter."
And while it is always prudent not to read too much in to pre-season results - the Mystics know this better than most given they won the Queenstown tournament last season only to finish a disappointing eighth in the transtasman league - the Auckland side's performances over the weekend revealed a long list of work-ons for the next month.
Mystics captain Temepara George, one of just four players remaining from last year, admitted their form over the weekend had been patchy but was confident her side can get to where they need to be for the start of the season.
She said aside from the Mystics "dismal" 60-42 loss to the Canterbury Tactix on Saturday night, her side otherwise looked to be on the right track.
"We'll learn a lot from our losses and that's what is important. This tournament has definitely shown what we need to work on. I think we're heading in the right direction. We're definitely not perfect, but then you don't really want to be perfect at this stage anyway," she said.
With less than four weeks before their season-opener against the Adelaide Thunderbirds on March 20, Keenan and sidekick Debbie Fuller still have a long way to go to mould their revamped line-up in to top-four contenders.
Keenan said given the team have only been together for a limited time, and they have had a couple of injuries to key players to contend with, she did not have high expectations for this weekend.
"We always knew this weekend was going to be difficult," she said.
The Mystics coach pinpointed her side's through-court links as the main area needing improvement.
"Our through-court links is one aspect we haven't really touched on. Our through-court defence also needs a bit of work. We haven't done a lot of court work before coming here so there are a whole lot of things we need to go back and revisit."
Complicating matters for Keenan is the number of injuries in her camp.
Silver Fern defender Joline Henry was sidelined over the weekend with a calf injury, while Jamaican import Althea Byfield was used sparingly.
With Keenan not wanting to risk exacerbating Henry's injury by pushing her too hard too soon, the Mystics first-string defensive line-up will likely have little court time together before the season starts.
Adding to the injury problem is star shooter Maria Tutaia, who sprained her ankle in yesterday's 71-39 drubbing of the AIS, and was later helped from the stadium by her teammates.
Keenan yesterday played down Tutaia's injury.
"It's just a sprain, she's able to put weight on it, so we're not too worried about it at this stage."
The Mystics coach preferred to look at the positives - in particular the performances of her rookie players, who were leaned on heavily to step up in the absence of some of the team's stars.
Auckland schoolgirl Sulu Tone-Fitzpatrick and fellow teenager Kayla Cullen, who was selected in the side as a shooter, held up the Mystics defensive end for most of the weekend, while Bailey Mes played a lot of minutes in the shooting circle.

RESULTS
ANZ Championship pre-season tournament (Queenstown)
Day 2
* Canterbury Tactix 57
Australian Institute of Sport 43
* Southern Steel 64
Central Pulse 53
* Queensland Firebirds 62
Northern Mystics 61
* Central Pulse 65
Australian Institute of Sport 33
* Canterbury Tactix 60
Northern Mystics 42
* Southern Steel 50
Queensland Firebirds 50
Day 3
* Northern Mystics 71
Australian Institute of Sport 39
* Queensland Firebirds 48
Central Pulse 39
* Southern Steel 54
Australian Institute of Sport 50
* Central Pulse 50
Tactix 40