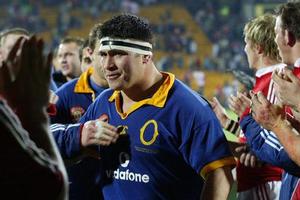 The head of Dunedin's new stadium has taken rugby to task for the "arrogance" he says it has shown its potential supporters.
Dunedin Venues Management chief executive David Davies said putting up posts and flags and expecting a crowd to come was no longer good enough, and if necessary, he promised to deal with that problem.
"I expect better from them. If they don't make a difference, I will."
While Otago Rugby Football Union chairman Ron Palenski was not fully at ease with the term "arrogance", he agreed there was a perception among the public that was the case.
The union was already working amicably with Davies on how the stadium and the union could work together on the promotion of the game and the stadium, and the union supported what he was doing.
"Rugby needs to work harder to get people to follow the All Blacks, follow tests, and watch games," Palenski said.
"It's not automatic any more that people go to games."
For Davies, the game needed more than just the new stadium to bring back the crowds.
"Losing bums on seats is not because the stadiums are poor, it's the customer experience," he said.
There was an "obvious arrogance" in rugby circles, with the expectation crowds would simply turn up for a game.
"They're not," Davies said, and there was an education process that needed to happen.
"If people spend money, they need a reason. Part of this is improving the customer experience."
Davies is not the only new entrant to the management of Otago rugby who has recognised the Highlanders, at least, have lost their connection with the public.
One of the franchise's recently appointed directors, Kereyn Smith, made clear early on she felt the Highlanders needed to "re-engage" with fans, and Mayor Peter Chin noted the expectation of the public in the performance of the team, not just on the field, had "not been borne out".
Davies planned to consult with the region's rugby clubs and do something about the criticism he had heard, that people were disconnected from "the pro arm" of the code.
He said in New Zealand, rugby had not marketed itself at a community level to the point it was capable of.
The experience had to be a good one from the time punters parked their cars. Going through turnstiles had to be a simple and quick process, tickets needed to be bought through mobile phones if necessary, and queues had to be short.
There had to be sufficient television screens in the concourse so people leaving the playing arena to buy food or beverages did not have to rush back if a try was scored.
Entertainment needed to be provided, and children had to have access to players after the match, as they used to be able to do at Carisbrook.
"Trying to capture some of the spirit of Carisbrook of old is something we want to do."
- OTAGO DAILY TIMES