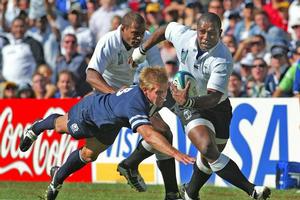 Do you go for English pragmatism over French elan? Australia's big-game players or South African bulk?
In the end, most of the choices were relatively clearcut, though there were issues at inside centre and lock. Martin Johnson fans may cavil at his exclusion but the fact is that, as magnificent as he was, he was playing on the smell of an oily rag when he lifted the William Webb Ellis Trophy in 2003 and went no further.
There are some players here who have never really performed against the All Blacks, most notably Irishmen Brian O'Driscoll and Paul O'Connell, but they have excelled for a decade against most-comers and there is more to the rugby world than just New Zealand.
There were some positions where more than one All Black nemesis emerged, most notably halfback where George Gregan and Fourie du Preez have delighted in beating and goading their opposites. Snapping at their heels was Argentina's hugely influential Agustin Pichot.
There is only room for one, however.
Where possible, the sole selector has tried to keep players in their best positions, though in the case of the wingers, the two named are too good to ignore, although they both favoured the easy (left) side of the park.
15 Chris Latham (Australia 1998-2007)
Latham started out as a bit of an enigma, brilliant one day, ordinary the next. However by the middle of the decade he was turning in quality performances nearly every time he pulled on green and gold.
With socks down and a casual mien, Latham was capable of lulling the opposition into a false security. He was excellent under the high ball, had a great chip-and-chase game and was deceptively slippery.
His 40 test tries stand behind only David Campese in the Australian records.
It should be noted he was consistently brilliant for the consistently awful Reds in Super rugby.
14 Rupeni Caucaunibuca (Fiji 2003-06)
Probably the greatest attacking player of the decade, Caucaunibuca's talents were only sighted sporadically on the world stage due to a variety of reasons that could all probably be listed in the "Couldn't Really Give A ****" category.
He failed to show for Fiji when his wife got an infected tooth (bless), failed to show for his French club Agen (although they were to discover he had contracted a tropical virus), and failed to show for anyone for three months in 2007 after testing positive for cannabis use following Agen's Top 14 match against Montauban on March 24.
So he was bit of a loose cannon was old Caucau, but boy what a player. Speed, strength, a swerve to die for. He could have been anything, including a right winger as he is selected here, rather than his favoured left.
13 Brian O'Driscoll (Ireland 1999-)
He might have carried on like a bit of a pork chop after being invalided out of the Lions tour in 2005 (egged on by his cheerleaders in the press, of which there are many) but it is better to remember him as a quite brilliant close-to-the-ground centre.
He was the star of the Lions tour to Australia in 2001 and has been the backline linchpin for Ireland in a decade where they have won four Triple Crowns.
Far from being a spent force, 2009 was possibly O'Driscoll's best year since '01, playing starring roles for Ireland during their Triple Crown, Six Nations and Grand Slam success.
Inspired the T-shirt, "In BOD We Trust".
12 Yannick Jauzion (France 2001-)
The toughest position to pick, Jauzion wins out by a whisker over Felipe Contepomi.
The beauty of Jauzion is that he has a great passing game, can kick the ball and is a big enough physical presence to play the role of crash man.
The problem with Jauzion is he sometimes appears confused as to what role he should play, or even what position.
The talented utility, who has worn 13 and 15 in his test career, is perhaps best known here for scoring that try at Cardiff, a try that gave France a World Cup quarter-final lead they were not to relinquish.
11 Bryan Habana (2004-)
Given the fact Bryan Gary Habana was named after Manchester United players Bryan Robson and Gary Bailey is some indication his sporting destiny got scrambled, but the Springboks will be forever grateful he chose to chase an oval ball.
Habana is capable, it is said, of running 100 metres in 10.2 seconds, which is fast. So fast he once raced a cheetah in a charity exhibition - he had a 35-yard head start and lost.
He does not need any head start in rugby. Give him an inch and he's gone, as the All Blacks found out recently when he scored a hat-trick for the Barbarians at Twickenham.
The try he scored to win the 2007 Super 14 final is another indication of Habana's talents.
10 Jonny Wilkinson (England 1998-2003, 2007-)
Gets in ahead of Matt Giteau because he is a match-winner in its purest sense. It was his drop goal that won the 2003 World Cup and the incredible thing about it was that although the scores were even with just seconds remaining, there was never really any doubt about how the match would end.
Whether through penalties or drop goals, whenever England was within 40 metres of the post, they were a better than even chance of nailing three points.
Wilkinson was such a relentlessly accurate kicker it is easy to dismiss the other aspects of his game but he was a brilliant defender, had above average hands and could run when required, which unfortunately for lovers of the running game, was very rarely.
9 Fourie du Preez (South Africa 2004-)
Edges out Gregan because the Australian spent the latter part of the decade in decline before finally hanging up his boots whereas du Preez is still very much at the top of his game. Argentina's everyman Agustin Pichot also ran him close but in a tight spot, you'd pick du Preez ahead of him.
Du Preez is a rugged halfback who can bust holes in tiring or slipshod defences. He is a quality passer of the ball as well but it is his kicking that makes him stand out from the rest.
Du Preez' accuracy when kicking from the base of a ruck or scrum is frightening - he could land a hanging box kick on a handkerchief.
With South Africa's game based on kick-chase, du Preez is the perfect No 9.
He is also a scratch golfer. Don't you just hate a show-off.
8 Lawrence Dallaglio (England 1995-2007)
Of all the indelible images created at the relatively new Westpac Stadium, three rugby ones stand out: John Eales kicking an injury-time winning penalty to reclaim the Bledisloe Cup; Dan Carter's chip chase to score against the Lions; and Dallaglio carrying All Black captain Reuben Thorne on his back as they won 15-13 in a 2003 forerunner to the World Cup.
At his best, Dallaglio was a beast of a man and in a decade short of world class No 8s, he was the standout choice.
7 George Smith (2000-)
In any other generation he would have stood out as the finest openside flanker in the game but there's one Richie McCaw standing in the way. The youngest player (29) to ever reach 100 international caps, Smith has at times been asked to fill the other loose forward roles but it is foraging at openside where he is at his best.
A breakdown specialist, Smith, like McCaw, is also a fearless defender and has above average skills that enable him to be an effective link man in attack.
6 Serge Betsen (France 1997, 2000-2007)
La Faucheuse, or the Grim Reaper, took his nickname from the ability of his tackles to scythe down opponents.
The Cameroonian moved to France with his family when he was nine and quickly found a niche in rugby.
Betsen enjoyed inflicting pain. The finer points of rugby were never so much an issue for him. It was rare, for example, to find him the crucial set of hands in a typically flowing French move, but he would smash into rucks and tackle all day if he could.
He wasn't a huge man but he had a large heart. In fact, Clive Woodward credited Betsen more than any other individual for teaching England how to win the 2003 World Cup. Betsen had single-handedly nullified Wilkinson in Paris, 2002.
"He is the only player that I can say was the single-handed reason we lost a match," Woodward said.
5 Victor Matfield (South Africa 2001-)
No one player has proved to be the bane of the All Blacks' lives more than Matfield.
It's almost wicked, the way he moves from All Black lineout to lineout, internally grinning because he knows he has all the answers.
One look at old Victor and the hooker's hands start shaking, the locks' knees start knocking and the lifters suddenly run out of power.
But he is more than an arch destroyer. he is a terrific athlete to boot. He might be creaking slightly now but at his peak he could get around the track with blazing speed and he has exceptional, basketball-like ball skills.
4 Paul O'Connell (Ireland 2002-)
So insipid was his performance here with the Lions in 2005 that he was also defaulted out of contention.
Good judges, however, maintain that was a blip and that perhaps Woodward's leadership style did not bring out the best in the flame-haired lock.
The Munster man is a decent athlete and lineout jumper but it is really his physical presence that is the key to his, and much of Ireland's, success.
Where O'Driscoll is the talisman in the backs, O'Connell provides the follow-me in the forwards.
Gets in here ahead of Johnson simply because he's played the decade, as opposed to a third of it. If it was the decade between 1993-2003, no contest, but these things tend not to work like that.
3 Martin Scelzo (Argentina 1998-)
Part of an Argentine front row, along with Mario Ledesma and Rodrigo Roncero, that rarely take a step backwards, Scelzo has been one of the quiet achievers in world rugby. His 41 caps, spread over more than a decade, would have been a lot more if he played for most other countries.
In Argentina, rugby is scrummaging, where the "bajada", or eight-man shove, has been as much a part of their tactical armoury as kicking.
2 John Smit (South Africa 2000-)
Okay, he might be hanging on to that Springbok jersey by the skin of his teeth at the moment, and he's clearly behind Bismarck du Plessis as an out-and-out hooker now, but do not let that detract from what has been a massively influential 10 years in the sport.
Smit is a World Cup winner, something no current All Black can claim to be.
He's also, if you believe the chatter, effectively Springbok player-coach now.
1 Gethin Jenkins (Wales 2002-)
Can play on both sides of the scrum but in truth is not much of a tighthead.
There are some cynics who argue he's not much of a loosehead either but determining the merits of scrummagers can be an intensely personal thing.
This year, Jenkins, Adam Jones and Matthew Rees became the first all-Welsh Lions front row since 1955.