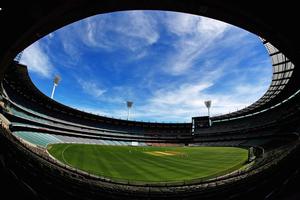 SYDNEY - Fresh from greasing the wheels of Australia's World Cup bid with powerbrokers in South Africa, Football Federation Australia boss Ben Buckley has returned home to receive a kicking from rival codes.
His old boss, AFL chief executive Andrew Demetriou, effectively lobbed a hand grenade by stating that Australia winning the right to host the 2018 or 2022 World Cups could force the AFL to cancel its season.
In his inflammatory statement, Demetriou claimed staging the premier sporting event could force the MCG to be out of action for four months - a disastrous scenario for his code.
That prompted further carefully-designed attacks on the FFA from NRL chief executive David Gallop and MCG boss Stephen Gough, both calling for more information on how Australia's bid will affect them.
So instead of talking to the media about the merits of the Socceroos' draw for the 2010 World Cup in South Africa on Monday, jet-lagged chief executive Buckley was publicly forced to put out a bush fire started by his old mate Demetriou.
The normally-polished Buckley looked a little miffed about the whole affair as he publicly reiterated his stance that no stadium would be out of action for any longer than eight weeks if Australia's bid was successful.
And just six weeks if the arena only hosted group fixtures.
Such a length of time is likely to cause severe disruption rather than the cancellation of an NRL or AFL season.
The drama acted as a timely reminder to Buckley that Australia's fight to claim hosting rights for the World Cup had to be won both at home and abroad.
And that he must keep powerful rival codes on side before the host countries for the 2018 and 2022 tournaments are named next December.
Gallop said: "We are not trying to stand in the way of the World Cup bid but we are not prepared to fall off the face of the planet either".
Buckley said the FFA would discuss with soccer's governing body, FIFA, the possibility of Australia's other football codes continuing their competitions during a World Cup.
The prospect, however, of their code being so heavily overshadowed surely wouldn't be an attractive path for either the AFL or NRL to travel down.
Then Buckley played the card that will be used to settle any squabbling with soccer's rivals.
"We think the World Cup is bigger than any individual sport," he said.
"It is the biggest sporting event in the world, it has significant economic benefits to Australia and enhances our standing as a nation around the world and enormous social benefits.
"I think everybody understands that it is just a matter of working together and constructively and we will find some solutions."
There has been speculation the MCG would need to be configured in a rectangle but Buckley said that wasn't an option his body was "actively pursuing".
The FFA has until May to have all the relevant sporting bodies and stadia on board as that is the due date for its World Cup bid book to be handed to FIFA.
With the MCG contractually bound to host AFL games during the winter months, the FFA must rely on goodwill from the code.
Publicly, the AFL and NRL have no choice but to show their support for the showpiece tournament.
But that doesn't mean they have to make it an armchair ride for the round-ball game either.
- AAP