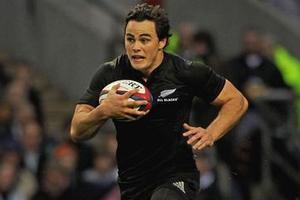 The All Blacks finished their end of year tour this morning. Gregor Paul gives his verdicts on who stood out, who has more work to do and what the All Blacks have learned in the last five weeks.
The Five Big Finds of the Tour
1. The coaching reshuffle, rightly a point of debate, proved a success. The forwards, now under the control of Graham Henry, were tighter, more aggressive and aware of the need to build a platform. The lineout was close to perfect and every side was bettered at the collision.
Defensively, the All Blacks were superb - once again not conceding a try on tour and Wayne Smith, now the co-ordinator of that side of the game plan, is up to the task.
Probably the biggest contribution came from the man under most pressure - Steve Hansen. In his new role as attack coach, he masterminded, against France, one of the best offensive performances of the past 18 months.
It was slow work getting them there but there is no question the All Blacks rediscovered their counter-attacking edge; were working flatter to the gain line with strike runners coming from deep and playing with more confidence with ball in hand.
They know now they can handle their portfolios and should consider persevering as they are.
2. Tom Donnelly is a bit more than just a good lineout operator. That's his core role, his trump card, and he was magnificent in the way he took control, called the shots, sped up the whole operation and took more clean ball in one tour than the All Blacks have enjoyed in the last season. What he also showed, particularly against France, is that he can get around and fit in rather nicely with the expansive game plan the All Blacks are developing. He was rugged, mobile and determined.
3. Dan Carter found his running game again. And what a difference that made. Carter had been ticking all the right boxes on tour - his tactical kicking was good; his goal-kicking; his tackling and his tactical control. The missing ingredient was his work with the ball in hand. He found that against France with one of his best running efforts since he ripped the Lions apart in 2005.
He made some incisive breaks against the French and showed how high his confidence was running when he broke the first line of defence with brute strength and the second by chipping over the top and gathering.
4. The lineout tables were mocked when they first appeared in photographs in Auckland before the All Blacks departed. It had the feel of a publicity stunt - the All Black locks photographed standing on tables while they caught balls thrown by the respective hookers. Well, even if it was a stunt, it worked. The All Blacks took those tables to Europe and used them extensively at training and the line-out was as good as it has been in the professional era.
5. At just 20, Zac Guildford could have been a nervous wreck making his test debut in Cardiff in front of 75,000 screaming Welsh fans. He was anything but and he enjoyed a good debut, staying rock solid under the high ball and coming more into the game as it went on. He followed that up with an energetic display at Twickenham and with a season to come with the Crusaders, he could be a better player again come June.
Player of the Tour
There are two obvious candidates - Richie McCaw and Dan Carter. The thing about these two is that they could clean up in any best of' wrap. They are the two world class performers, operating at a level above everyone else.
So you have to judge them by harsher standards than the rest. McCaw was excellent throughout the tour but he has played better. His consistency was to be admired, however.
As for Carter, he was fair-to middling in Tokyo and Cardiff, off-key at Twickenham and brilliant against France. So not quite enough consistency to stand out as the player of the tour.
That honour belongs to Brad Thorn. The big lock played the two best tests of his career against Australia and Wales, followed it up with a tough shift against England and then subdued the French.
The value of Thorn is hard to measure. He hits the breakdown with a thump, carries the ball to good effect, knocks men down in the tackle and even wins a little bit of ball in the lineout.
He's a proper lock - at ease with the technical components of the craft and for him to stand out as he did in the Northern Hemisphere - where the game is structured and built around the set piece - he's clearly on the right track.
Five Questions that Remain Unanswered
1. It is still not entirely clear whether there is reliable back-up at openside or first five. Mike Delany was composed in his 65 minutes against Italy and was coming into the game more. But it wasn't enough to be sure of his merits and we can't really say whether he's ready for test football or not. Tanerau Latimer was more convincing, although he still didn't do enough for anyone to be sure. He showed the right level of energy and understanding when he played against Italy and won a place on the bench against France - so it would seem the selectors have made their minds up he is the man with whom they will persevere.
2. Liam Messam did not make it any clearer whether he is a test class footballer. If anything, he went more towards proving he's not. In his one test appearance against Italy, he made a lot of mistakes and, unusually for him, it was his passing and catching that let him down. He's such a gifted individual but will have to deliver in the Super 14 if he's to convince the selectors to stick with him.
3. Jason Eaton was picked for the opening game of the tour on the bench and then started against Wales where, by Graham Henry's reckoning, the big lock played well. And that was it. He was pushed back to the bench against Italy, then not in the 22 to face England or France.
Does he have a future at this level or was he just filling in this year as a consequence of injuries to Ali Williams, Bryn Evans and then the non-selection of Isaac Ross?
4. There was a golden opportunity to select Kieran Read to play Italy and ask him to captain the side. The selectors passed up on that, as they wanted Read to start against England and France, so the captaincy was entrusted to the vastly experienced Rodney So'oialo in Milan. It was a legitimate call but leaves open the question of who is the long-term replacement for McCaw as captain?
5. Why track Aled de Malmanche down in Bali, fly him to London ahead of the England test, put him on the bench, not use him and then keep him with the squad even when Corey Flynn was declared fit again? It is no clearer why the selectors turned to him but then refused to let him loose on the park.
Five Players With Much to Prove
1. Brendon Leonard couldn't nail his opportunity on tour. He started against Wales but couldn't quite get into the game the way he would have liked. His running game has not returned and he is missing the edge he once had. Couldn't hold on to his place on the bench for the final two games and needs to build his confidence.
2. There was obvious disappointment for John Afoa that he didn't secure a start in any of the tests. The reason was simple - he has issues when it comes to the scrum. Henry rates him the best prop away from the set piece but, until Afoa can handle the Dark Arts, his time in the jersey will be limited.
3. Stephen Donald is now very much on the edge of the All Blacks. He clocked the fewest test minutes of any player on tour and saw Delany leap-frog him. He also heard from the selectors what he has to do to win back a place in the team - reinvent himself as a second five.
4. A tough year for Rodney So'oialo ended with the realisation that he is slipping further down the ranks. He didn't make the 22 against France and is now some way behind Read. His workrate was first class against Italy but he needs to do more because Read can match him on that score and trump him with his tackle count, angles of support, decision-making and handling
5. Wyatt Crockett appeared to take a pounding at the scrum in Milan. There was justification of sorts afterwards when IRB referee boss Paddy O'Brien said the Italians had been binding illegally for much of the game. It was only a justification of sorts. Crockett needs to prove he can handle himself and work out how to fix opponents who operate outside the law.
Five players Who Came of Age
1. Mils Muliaina didn't so much come of age as re-establish himself as one of the best fullbacks in the world. His pace has not waned and his decision-making all tour was uncannily good. He attacked the ball in the air, directed those around him and was physically like a 22-year-old but mentally his 29-year-old self.
2. Cory Jane is now a name that is penned rather than pencilled into the team sheet. His astonishing season got better with a brilliant try against France and tidy performances elsewhere. For a smallish man, he packs a lot of power, reads the game well, is safe under the high ball and beats the first tackle.
3. Kieran Read played the game of his career against France and looked every inch a quality No 8. He's grown into the position and some of his work tidying up the base of the scrum was first class while his workrate didn't flag once on tour. He also took a lot of quality lineout ball.
4. Neemia Tialata cemented his position as the best tighthead in the country and showed he can handle 80 minutes and also back it up the following week. Given that his test career looked over earlier in the year, his contribution was significant. His fitness was vastly improved, his attitude good and while he struggled in a few scrums against France, he also put the shunt on that led to Jerome Kaino's try.
5. Ben Smith's first touch in test football was a knock-on. That could have broken the young man in Milan but he bounced back to enjoy a sharp and convincing debut. He looked for the ball, tackled well and is exactly the sort of player the All Blacks are looking for to lead their counter-attack revolution.