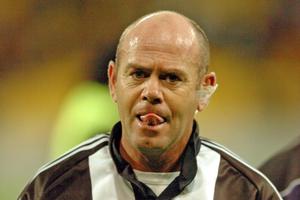 LONDON - International Rugby Board (IRB) referees' boss Paddy O'Brien has given Stuart Dickinson a rev-up and apologised to the All Blacks for the Australian whistler's errors at the scrum last weekend.
New Zealand's former top referee told coach Graham Henry when they met in London today that Dickinson got it wrong, and Italy's props were breaching the laws as they appeared to dominate the All Blacks' scrum in Milan.
"The best example I can use is in the last 10 minutes there were eight scrums, of which seven, the tighthead for Italy is purely illegal," O'Brien told Fairfax media.
"Up here they're crying that it should have been a penalty try. It should have been a penalty first scrum to the All Blacks."
Italy coach Nick Mallett called for a penalty try as the hosts camped on the All Blacks' line, while the tourists claimed tighthead Martin Castrogiovanni was boring in on Wyatt Crockett throughout the test.
All Blacks assistant coach Steve Hansen yesterday accused Dickinson of "guessing" in his scrum rulings.
O'Brien said Dickinson would need to study a DVD of the match, he would be coached on how to better adjudicate the scrums, and told to lift his game or it could affect his future appointments.
"We've got to be fair to teams. If the referee is not accurate we've got to put our hand up. We need to educate that referee and get him better because that scrummaging on Saturday was not up to international standard."
He said the impact on Crockett had to be taken into account, as he was subbed off in the 60th minute after repeatedly trying to tell Dickinson of the problems at scrum time.
"You've got a young guy trying to launch his test career and get things right and the referee is inaccurate. Then it's our problem," O'Brien said.
"We've got to deal with the ref which we will just like Graham deals with a player who is not playing well."
South African's Jonathan Kaplan will control the All Blacks' test against England at Twickenham on Sunday (NZT).
- NZPA