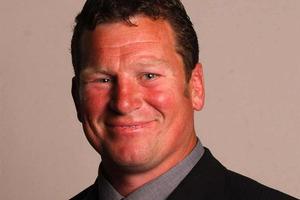 That was a good win by the All Blacks. The front five set the platform and the team were patient and clinical and it was a comfortable win in the end.
The lineout worked well - from Andrew Hore's throwing to the jumping and catching. Guess someone must have done some work in that phase lately.
Skipper Richie McCaw really did the business - he had a fine all-round match. But I have to say his job was made easier by good performances from Adam Thomson and Rodney So'oialo. The latter wasn't flashy but he did what he had to and that meant McCaw was able to shine.
I still think Kieran Read is our No 1 No 8 and things went up a level when he came on - but So'oialo showed he is a good back-up.
The scrum wasn't quite so good. I have to say that Neemia Tialata - who I have criticised for some time - got around the field well and showed some agility. However, he came a long second in the scrums to Benn Robinson and there is still some work to do.
The backline worked well. Jimmy Cowan was excellent all-round value and Dan Carter was his normal, efficient self.
Conrad Smith really settles that backline down and it was good to see him back.
He nearly always makes the right decisions - and so does Cory Jane. He's made that wing position his own already because of that skill set he's got, and he also has deceptive pace. If he keeps this up, he will start to put some real pressure on Mils Muliaina at fullback, I think. He catches, runs, passes and kicks well and his decision-making is right up there with the best.
Sitiveni Sivivatu also did well after being out for so long - but I thought he was a bit lucky not to get a red card.
He didn't go for the ball at all in that challenge and it could have been ugly - but he got involved and worried the Wallabies a lot when he had the ball.
While we are talking about Sivivatu, I must mention Tom Donnelly's part in his try. It was only his second test but he took the pass well, shipped on in a stride and helped make the try. He did well in the general phases and at the kick-offs and he's looking a smart selection even if many of us still don't agree with Isaac Ross being left behind.
Brad Thorn put himself about well and got back to make some covering tackles. The All Blacks did well in the set pieces - though that scrum needs a polish - and they did better at the breakdown in the second half after the Wallabies took it to them there in the first.
They held their nerve, they were patient and insistent. There were some dull moments and they made quite a few mistakes - but it was a good start to the tour.