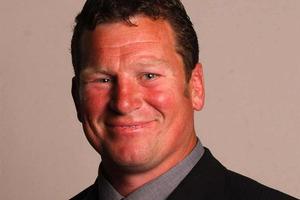 In the end it was probably a miracle the All Blacks got as close as they did seeing as they gave the Springboks a 40-minute headstart last night.
The two things that will ensure I remember this match for a long time to come are watching Francois Steyn bang over three kicks in succession from the wrong side of halfway and the most lop-sided halftime lineout statistics imaginable.
What Steyn did was quite remarkable but equally staggering was the All Blacks inability at the lineout.
You can throw all sorts of cliches around but the simple truth is you cannot expect to compete with a team like South Africa, who put so much pressure on you with their kicking game, if you have a dysfunctional lineout.
Andrew Hore will wear it in the neck today for a couple of crooked throws but to me the problem was all in the timing.
The All Blacks seemed to be moving across the line early and it wasn't as if he was particularly inaccurate, it just seemed like ball and man were not arriving at the right time.
On the surface it seems like a reasonably easy fix but it is a lot easier to say that from the comfort of an armchair than it is in the white-hot atmosphere of a test.
The decision to use Isaac Ross, in just his eighth test, will come under scrutiny again. I wouldn't go as far as to call it a bizarre move, but it does put a lot of pressure on young shoulders.
Whatever the root causes, the Boks had their own way at lineout time in the first 40 minutes and it contributed hugely to the fact the All Blacks were chasing the game for the second half.
The scrum was perhaps not as dominant as we would have liked to see, particularly when Richie McCaw turned down a certain three points to set a scrum midway through the second half, but I'd still give them eight out of 10 in this area.
Owen Franks continues to impress and took another step forward last night. His scrummaging is adequate but his work around the field, particularly his tackling, is outstanding.
If you're looking for positives out of a difficult night, the fact the replacements - from John Afoa, Adam Thompson and Isaia Toeava through to Cory Jane - came on and made such an impact was pleasing.
The fact the All Blacks had a chance of winning a game they were well out of before they came on demonstrated their worth.
If that's a positive, the fact that guys like Wyatt Crockett, Colin Slade and Tom Donnelly were not released for the Ranfurly Shield was a cruel way to treat domestic rugby. These guys need more game time, not less.