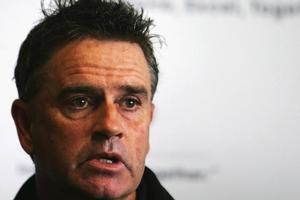 Even as the dust settles on Liza Hunter-Galvan's shattered athletics career, so too former Athletics New Zealand selector John Bowden is contemplating the end of his - caused, he thinks, by Hunter-Galvan.
Bowden was one of the casualties of the Hunter-Galvan selection saga and aftermath and, now that she has been banned for two years, Bowden has mixed feelings.
He resigned just last week from Athletics New Zealand's cross country and road committee, of which he was convenor.
That was the body that initially declined to select Hunter-Galvan for the marathon at the 2004 Athens Olympics and again at the 2008 Beijing games.
She then challenged the decisions, winning entry to both teams after the threat of a legal battle in 2004 and then used lawyers to win selection for Beijing, where she finished 35th. She'd placed 51st in Athens.
Bowden suspects strongly he was blamed by many within athletics for the high profile episode which attracted a lot of unfavourable publicity.
He was convenor not only of the cross country & road committee but also the track & field committee for Athletics NZ - but was voted off the latter at around the same time as Hunter-Galvan was winning her way back onto the team for Beijing.
Bowden went to Beijing as the marathon coach - and he was also full-time coach for the other New Zealand woman marathon representative in China, Nina Rillstone.
The whispering campaign, he feels, centred on his coaching of Rillstone and his strong advocacy that Hunter-Galvan not be selected.
"Strangely enough, I got voted off the committee that had nothing to do with the marathon - the track & field committee," he said. "The board [of Athletics NZ] always supported me but I think it was the Hunter-Galvan business that got me voted off. I think some people blamed me for not wanting her - but I always maintained she didn't have the qualities needed for a good finish at the Olympics. If you look at the results, I was right. Selection is never just about qualifying times - otherwise what do you need selectors for?"
Bowden said there was no evidence of any drug use surrounding Hunter-Galvan's original non-selection for Athens and Beijing. Instead, he and others had felt she was not capable of a top-16 finish (a selection criterion); that she had run qualifying times in "easy" marathons that bore little resemblance to the Olympic version; and her big race record did not match those times. He maintains her Olympic record bears out that analysis.
But that did not stop feelings among some in athletics that Bowden was favouring his athlete Rillstone over Hunter-Galvan. Ironically, her eventual selection for Beijing threw athlete and selector together, with Bowden wearing his other hat as marathon coach.
He said: "I helped coach her [Hunter-Galvan], I held her shoes and her sweaty shirt when she got on the bus - I'd like to think I am more professional than that...no, I know I am."
The last straw came when a remit was filed last week at committee level at Athletics NZ, proposing that a person who coached a 'carded' athlete could not also be a New Zealand selector. In little doubt this was aimed at him, Bowden resigned from the cross country & road committee.
He is also moving on to a new high performance job with New Zealand Paralympics but said he was saddened by the Hunter-Galvan saga.
"I've got mixed emotions. It's sad, really. It's sad for her and it's sad for the sport and I am also sad I didn't get a lot of support from the sport, other than from the board."