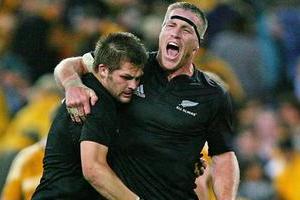 SYDNEY - As All Blacks coach Graham Henry took aim at Wellington coach Jamie Joseph, his players said they couldn't wait to return to provincial rugby.
Henry had one final dig at Joseph over his refusal to give some of his All Blacks game time last weekend as the coaches and medical staff decide today who will be released to their provinces in the next fortnight.
After their 19-18 win over the Wallabies last night, the All Blacks aren't back in action until South Africa's visit to Hamilton on September 12.
It was unanimous; Richie McCaw and Daniel Carter both hoped to play in Canterbury's Ranfurly Shield challenge against Wellington on Saturday, as did Brad Thorn despite describing himself as "a walking carcass" soon after fulltime at ANZ Stadium.
And Joseph conceded ground on the issue, saying he would welcome back the likes of Ma'a Nonu and Rodney So'oialo if available.
"We're getting All Blacks back now. Had I known we were going to get All Blacks all year, we probably would have been playing them," Joseph told Sunday News.
"It's great. Having these guys available week in, week out for NPC rugby when they're not playing test matches has got to be good for Wellington rugby and rugby in general."
Henry admitted the Joseph affair was messy and they had agreed to disagree.
"I think Jamie Joseph is a hell of a good young guy and a good coach. I just wonder whether this is the correct decision, personally.
"I've got a lot of respect for the guy and I understand where he's coming from but I wonder in this case whether it is the right one."
Winger Cory Jane was the most affected by Joseph's decision last week and was robbed of the chance to prove himself as incumbent Joe Rokocoko saved his spot with a two-try performance for Auckland.
Henry said it was a tricky balancing act.
"There will be a few guys playing. You've just got to get that right and make sure the All Blacks are the No 1 priority.
"There is a directive, it's a combined discussion with players and Nick Gill, our conditioning coach, and the selectors."
McCaw, Carter and Thorn all hoped they would be released, fitness permitting.
McCaw: "It wouldn't be a bad idea would it? I'll see how we get over tonight."
Carter: "Hopefully. I'll have to see how the body pulls up. I feel part of that Canterbury team, I've been there right from the start so I'd love to get back there and play as much rugby as I can."
Thorn: "I'm pretty keen to throw on a jersey for Canterbury so we'll see what happens. I'll never say I don't like playing rugby but right know I'm feeling shagged. I guess we'll be told, so it could be interesting."
Two players who won't be returning for their provinces are Luke McAlister (fractured cheekbone) and Conrad Smith (strained hamstring).
A medical report will be issued tomorrow but Henry expected both would be ruled out for the rest of the Tri-Nations after being injured during last night's bruising test.
- NZPA