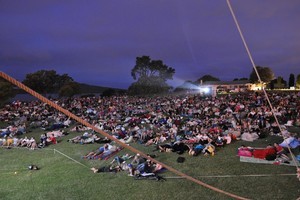 MUSIC
There are several outdoor festival options this Saturday, so let's hope the sun shines. Over at the Turanga Creek Vineyard in Whitford, Californian soul powerhouse Aloe Blacc, Australian roots lovers The John Butler Trio, local songbird Annabel Fay and sometime acoustic crooner Tiki Taane will be getting down in the grapevines for the More FM Vineyard Tour. Meanwhile over at Villa Maria Estate, in celebration of nostalgia, The Exponents, When The Cat's Away, Dragon, Mental As Anything and Shona Laing will be getting together for A Day On The Green: Class of '81.
And if you're in town and looking for a bit of a party, you can head on down to the Hit It & Quit It Silo Sessions from midday where DJ producers Recloose and Frank Booker will provide eclectic sets spanning deepest disco, to 80s boogie and modern house.
MOVIES
It's already won several Golden Globes, so French romantic-comedy The Artist looks likely to be a hit at this year's Oscars. Set in 1927, and harking back to the days when mime, gesture and dramatic scoring told the story, silent film The Artist is a beautiful ode to the black and white glamour of Hollywood, telling the story of George Valentin (Jean Dujardin), a successful silent movie star whose career is upset by the arrival of talking pictures, along with the attentions of Peppy Miller (Berenice Bejo), a vibrant young actress.
It also stars John Goodman and James Cromwell.
Another highlight is the opening of British indie film Weekend, a rich romantic drama following the lives of Russell and Glen over the course of three days. What starts out as a one-night-stand on a Friday evening blooms into something much more disarming and poignant.
Also starting are two films looking to bank in on Valentines Day. The Vow stars Channing Tatum and Rachel McAdams in what looks like a cross between The Notebook and 50 First Dates; and This Means War stars Chris Pine and Tom Hardy as two CIA agents who dating the same girl.
TV
The new season of local drama kicks off this week when Go Girls returns for a fourth season on Tuesday, TV2 8.30pm. A year has passed since Kevin and Amanda tied the knot and Britta found out she was pregnant at the end of season three, and a lot has changed for the tight-knit North Shore bunch. Kevin has been living the quiet life in Thames, Britta is a besotted mum, Cody is keeping the garage going by herself, Amy is a qualified lawyer, Brad has been finding himself in Spain, and Olivia's father passed away after a sudden heart attack.
Golden Globe winning psychological thriller drama Homeland starts on Monday, TV3, 9.30pm. From the writers of 24, this series centres on the threat of terrorism, though this time it's in the form of Sergeant Nicholas Brody (Damian Lewis), who has been held captive in Iraq for eight years, and who CIA operative Carrie Mathison (Claire Danes) believes has been turned into an undercover terrorist.
And also in the psychological study category comes Paul Henry's new talk show Would I Lie To You?, starting on Sunday, TV3, 7pm. Let the complaints roll in.
OR...
The annual free series of Movies in Parks kicks off this Friday and Saturday evening with films and live music at Tahaki Reserve in Mt Eden, before moving on to Auckland Botanic Gardens next week and then round various parks and reserves until the end of March. Find your beanbag, cushion, and comfy blanket and head out to enjoy cinema under the stars. www.moviesinparks.co.nz has all the details.
-TimeOut