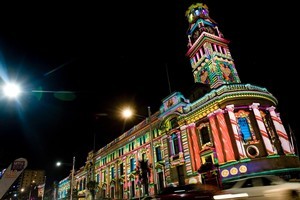 Splore-City is now a matter of days away, now at the Auckland Town Hall, after organisers shifted the venue from Aotea Square in order to keep the event going late into the night.
Noise complaints from local residents during the recent Laneway Festival probably added to the decision, but either way revellers can party in the confidence that the speakers won't get carried away in a noise-control van.
As well as the music, The Town Hall will become a visual smorgasbord, with art installations, performance art, and multi-media from artists such as Empress Stah, Eric Orr, Niki Hastings-McFall, The Dub Module, The Visual Division and much more.
Organisers add that "garnishing yourselves in colour" is encouraged.
The herald.co.nz will be at Splore-City this weekend, and will have video interviews with some of the performers later in the week.
Also make sure you get a copy of this Thursday's TimeOut, for interviews with Kelis, Mayer Hawthorne, and Caribou.
Playing times:
Friday
7.00pm Doors open
7.30pm Coast
8.45pm Fly My Pretties
10.05pm Dub Module
10.20pm Kelis
11.25pm Empress Stah
11.30pm J Star
12.30am Empress Stah
12.40am Shortee Blitz
Saturday
7.00pm Doors open
7.30pm Four Tet
8.50pm Belleruche
9.55pm Empress Stah
10.10pm Mayer Hawthorne
11.15pm Dub Module
11.30pm Caribou
12.35am Empress Stah
12.55am Cuban Brothers
Ticket information: Available from The Edge website. $85 for single night or $150 for both nights. R18.