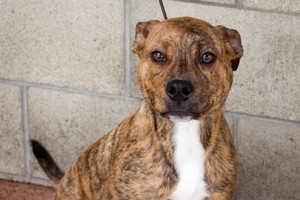 Playful Jorja is a 5-month-old Staffordshire-cross puppy who is looking for a new home.
Jorja is a pup with heaps of energy, so she will need daily exercise and lots of attention.
Jorja needs an owner who is at home a lot and will be patient with her while she is learning the rules.
Since she is still young, Jorja will need full training and an owner who will set firm but fair boundaries.
Jorja has a beautiful brindle coat and will grow to be a medium- to large-sized dog. She would be best suited to older children or adults.
All SPCA dogs and puppies are temperament tested, desexed, microchipped, veterinarian checked and vaccinated.
TO HELP
To adopt Jorja, or any of the other wonderful animals at the SPCA village in Mangere, contact the SPCA on (09) 256-7300. Jorja's SPCA village ID is 218303